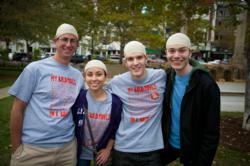 It's a vanity challenge - one that cancer patients do not have a choice about.
Boston, MA (PRWEB) July 25, 2011
What began with an idea and an inspiration, Be Bold, Be Bald! has become a national event which joins together all cancer charities for one day. On October 21, people all over the country will be wearing bald caps to honor cancer survivors and raise money to support their favorite cancer charities. During its first 2 years, national organizations such as The Jimmy Fund, LIVESTRONG® and The Susan Love Research Foundation benefited from this grassroots fundraiser. This year local nonprofits such as Heaps of Hope (Massachusetts), Michelle's Fund (Ohio), The UCLA Jonsson Cancer Center Foundation (California) and many others have joined Be Bold, Be Bald!.
Unlike most fundraisers that are limited by physical requirements, time constraints or geographical borders, Be Bold, Be Bold! asks participants to simply wear a bald cap for an entire day to honor cancer survivors, and raise money for their act. It's not a physical challenge; it's a vanity challenge – one that many cancer survivors do not have a choice about.
To date, the organization has raised more than $250,000, with over 2,500 participants across the United States, many as part of student, corporate or organization teams. In 2010, Small Army for a Cause, the organization behind Be Bold, Be Bald!, granted 100% of the funds raised specifically for each organization, plus additional funds from fundraising dollars when participants did not specify a cancer charity. This year, after receiving interest from many local charities who do not have the financial or human resources to conduct fundraisers, Small Army for a Cause opened the event to all cancer charities that are in good standing with the IRS.
"We are proud of the contributions we've been able to make to national cancer organizations," states Jeff Freedman, founder of Small Army for a Cause. "Now, we look forward to being able to support local organizations who are even more dependent on grassroots fundraising efforts to support their missions."
Small Army for a Cause not only came up with the Be Bold, Be Bald! concept, but also manages all marketing and logistics for the event. Beneficiaries need only to spread the word among their communities, encouraging them to sign up to raise money on their behalf. At the time of registration, participants select the charity for which they would like their proceeds to benefit.
"We are honored to partner with Small Army for a Cause on this creative fundraising event that honors cancer patients and survivors and provides an opportunity for supporters to show solidarity with those being affected by cancer," said Dr. Judith C. Gasson, Director of UCLA's Jonsson Comprehensive Cancer Center. "At UCLA's Jonsson Comprehensive Cancer Center, we measure our success each day by the direct impact our research programs have on the lives of those fighting cancer. We are looking forward to increasing that impact through the Be Bold, Be Bald! event in October"
Cancer organizations are still invited to become a beneficiary of the event by filling out a brief form on the event website. Participant registration is also open at BeBoldBeBald.org. An early-bird discount is offered on the sign-up for everyone that registers before August 15, 2011. Special registration packages are also available for student organizations who would like to participate in the event. Upon registering, participants receive a free bald cap to wear on the day of the event, a t-shirt and a variety of online and off-line fundraising tools, including personal online fundraising pages for each individual participant and team.
Be Bold, Be Bald! is managed by Small Army for a Cause, a 501c3 organization committed to helping raise awareness and funds for medical-related causes. Small Army for a Cause was founded in 2008 by Boston Advertising Agency, Small Army, in honor of its co-founder, Mike Connell, a 2-time cancer survivor who lost his life to the disease in November 2007.
###