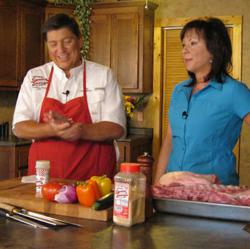 Lawhorn believes that this brand-building opportunity will help raise consumer awareness and demand throughout the country.
Haines City, FL (PRWEB) July 27, 2011
Tim Lawhown, CEO of Lawhorn's Signature Seasonings is happy to announce a new partnership with the award-winning national outdoors show "Spiritual Outdoor Adventures" as their sole cooking sponsor for the upcoming 2011-12 season.
Created, produced and hosted by Jimmy Sites, a well-known motivational speaker, Pastor and outdoors advocate, the show is entering its 10th season on the air. This popular "Outdoorsman's" TV show is featured on America's #1 hunting and fishing network, the Pursuit Channel and reaches over 60 million households weekly. The show airs Wednesday nights at 8pm, and Sunday at 12pm each week.
With a focus on the outdoors, hunting and fishing presented with a spiritual dimension, the show is extremely popular with avid outdoor enthusiasts around the world. The cinematography and adventurous nature of the subject matter keeps fans coming back every week and boasts a huge affinity factor that can really drive great results for sponsors. Lawhorn says "the strong brand loyalty associated with the Jimmy Sites organization is what convinced us to go with this show and cable channel for our first venture into television sponsorship".
Lawhorn's Signature Seasonings was named as the corporate cooking sponsor of the 2011 season in March of 2011. The cooking segments, co-hosted by Jimmy's wife, Amanda and Lawhorn's CEO, Tim Lawhorn are entitled "Cooking with Amanda". Their cooking demonstrations are presented more as show content than hard-sell commercial spots. Filming for all of the season's spots were done at Sites' Second Mile Corporation's studio home kitchen with Jimmy behind the lead camera. Sites is known for being as good a shot behind the camera as he is out in the wild, so Tim was confident the results would be on par with the cinematography featured during the show's outdoor adventure segments.
"Spiritual Outdoor Adventures" has a tremendous track record helping their sponsoring companies when it comes to marketing and brand-building, as all of their current and past sponsors will happily testify. He currently works with well-known names like Matthews, Bass Pro Shops, Morrell, Trijicon, Tomberlin and many more to promote the products that he believes in personally. That sets Sites and his show apart from many celebrity endorsers and sponsorship opportunities. Jimmy and his family actually used Lawhorn's Signature Seasonings in their own cooking long before meeting Tim Lawhorn and striking an agreement to work together.
Jimmy's missionary efforts and outreach have taken him all over the world to such places as Africa, Mexico, Canada, South and Central America, Grenada, the Caribbean islands, Scotland, Israel, Egypt, and the Ukraine. Jimmy Sites has been recently highlighted on two different ESPN shows and mentioned throughout the media including the 700 Club, regional and national ABC, NBC, CBS, and FOX affiliates, as well as print media such as USA Today, the New York Times, The Chicago Sun Tribune, the Nashville Scene, and dozens of other publications.
Lawhorn believes that this brand-building opportunity will help raise consumer awareness and demand throughout the country. By reaching out to this large segment of the consumer market that appreciates the outdoors, hunting and fishing via the cooking segments featuring Lawhorn's Signature Seasonings during Jimmy's show, Lawhorn's will cement more of the path towards a national brand and grocery store presence.
The cooking segments are now airing several times a week on the Pursuit Channel via Dish Network, DirecTV and several other providers.
This is Tim's first foray into the world of TV, but he has hopes of appearing soon on several other cooking shows. Maybe we will see him soon on Good Morning America or the Food Network.
Lawhorn's Signature Seasoning is now one of America's fastest growing seasoning blends. What started as a grass-roots, small town Florida seasoning is quickly gaining a national flavor and reputation. Tim developed this "secret" blend of all-natural, lower sodium and kosher mix of spices and herbs some 25 years ago, while working as an executive chef.
Learn more about Lawhorn's Signature Seasoning here - http://www.lawhorns.net/events.html
Related blog article - http://lawhorns.net/blog/lawhorns-seasoning-goes-hollywood-via-tennessee/
# # #