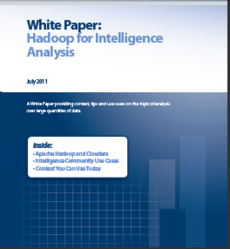 More information is always better, but to make use if it, analysis needs to keep pace through innovations in data management.
Manassas, VA (PRWEB) July 26, 2011
Technology research, consulting and services firm Crucial Point LLC has just published a white paper providing context, tips and use cases around Hadoop titled "Hadoop For Intelligence Analysis." This paper provides information of use to any enterprise seeking to make greater use of large quantities of information by focusing on use cases relevant to some of the most demanding missions in use today. It is written with executives in mind.
Apache Hadoop is a project operating under the auspices of the Apache Software Foundation (ASF). It is the foundation of a wide range of "Big Data" solutions including many in the information analysis domain. Use cases from intelligence analysis are proving to be especially relevant to organizations with large quantities of information on hand.
The paper is available for free download at http://ctolabs.com
About Crucial Point LLC:
Crucial Point is a national security technology due diligence, consulting, research, and services firm, providing interoperable open frameworks for national security platforms. Visit Crucial Point LLC online at http://crucialpointllc.com.
About CTOlabs.com:
CTOlabs.com is a subsidiary of Crucial Point founded to enhance dialog on enterprise technology concepts while furthering an open examination of new capabilities. Visit the labs at http://ctolabs.com
Interview contact: Bob Gourley, 1-703-565-2811, Contact(at)crucialpointllc(dot)com
###