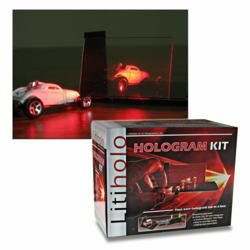 Partnering with SkyMall is key part of our plan for making holograms more accessible and affordable.
Newport News, VA (PRWEB) July 27, 2011
While the question of whether we live in a holographic universe is being debated, and 3D television is on the rise, it's only natural that a new product offers the opportunity to make your own holograms right at home. The Litiholo Hologram Kit is now available in the summer lineup of SkyMall, the ubiquitous catalog found on airplanes everywhere and read by over 650 million airline travelers each year.
The Hologram Kit makes real 3D laser holograms that seem to float just inches behind the hologram film, tempting you to reach out and grab them. The secret to Litiholo's do-it-yourself hologram success is the unique self-developing film that allows you to create your holograms and then view them immediately. "We've taken the complexity out of making holograms, and left in the fun," says Paul Christie, President of Liti Holographics. "Partnering with SkyMall is a key part of our plan for making holograms more accessible and more affordable."
SkyMall began offering the 3D Hologram Kit in its airline catalog on July 1st, and also through its online store at http://www.skymall.com. The SkyMall catalog is seen by approximately 88% of all domestic air passengers and offers a host of innovative, unique products. "We are excited about the reception we have received from SkyMall," says Christie, "and we believe this will create a whole new level of visibility for our hologram products."
The Hologram Kit is available for $99.99, and can be purchased with additional film refills for making more holograms. More information about the Hologram Kit and the "Instant Hologram" Film can be found at the Litiholo website, http://www.litiholo.com.
About Litiholo
Litiholo is a wholly owned division of Liti Holographics, Inc. in Newport News, Virginia. The company produces hologram products for commercial and consumer markets. The company's clients include Nordstrom, Jive Records, Tecate Beer, Sam Adams, and Procter & Gamble, as well as consumers around the world.
###