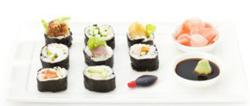 For nearly a decade, Fingerfood Company has been the favourite choice for Victorians
(PRWEB) July 27, 2011
Melbourne's longest running finger food caterer, Fingerfood Company, has now opened its doors in Sydney. Fingerfood Company is offering Sydneysiders the same incredible value that made it such a success in Victoria with catering starting from just $5 per head, backed by a money back guarantee.
For nearly a decade, Fingerfood Company has been the favourite choice for Victorians having a birthday, corporate function or wedding. The secret behind its popularity is the flexibility of packages on offer. Customers can choose to simply pick the food up from Fingerfood Company and cook it in their oven at home or go all out and opt for a full service package where professional staff deliver the food to their home - cook, serve and even clean up afterwards - and it all starts from just $5 per head.
As owner George Lucas points out, you can't even buy the food yourself for that kind of money. It's this fact that prompted him to expand to Sydney in the first place.
"Sydney is getting more and more expensive to eat out, especially for celebratory dinners where there are a lot of friends and family involved," Lucas explains "I realised that Sydneysiders are crying out for the same incredible value we are offering our Melbourne customers".
Finger Food Company Sydney will offer the same menus as its Melbourne counterpart, meaning customers can choose from a range of great tasting hot favourites like gourmet beef pies and succulent Kasho Ku prawns, through to freshly made rolls, wraps and sushi platters – even chocolate fountains. Best of all, every order is underpinned by Fingerfood Company's perfect party guarantee – 100% satisfaction or your money back!
Finger Food Company was established in 2003 as a family-owned business with a simple goal – to provide quality finger food at affordable prices. From humble beginnings it's gone on to become Melbourne's longest running finger food catering company, providing both simple and full service catering to thousands of residential and corporate functions across Melbourne. Recently it opened in Sydney and looks set to become a firm favourite with party people there too. To find out more about Fingerfood Company, visit http://www.fingerfoodcompany.com.au/sydney
__________________________________________________________________________________
For more information please contact:
Pete Williams
Sales & Marketing Director, Fingerfood Company
petew(at)itelecom.com.au
03 9536 2813
###