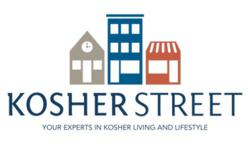 (PRWEB) July 27, 2011
For the rest of the summer months, Kosherstreet Nifty Moms & Friends, at least once a day will be contributing healthy & nutritious recipes that not only taste delicious & gourmet are simple to prepare – but best of all they are good for familes to eat! Everyone is talking about kosherstreet.com – to be part of our Delicious Food – And Healthy Meals.
Kosherstreet.com is the much buzzed about website for those who are living a "kosher" lifestyle. This little gem of a site is no longer the best-kept-secret among the moms and dads who are looking for great recipe, party ideas, travel tips, kids crafts, parenting advice, latest fashion picks, & home DIY Décor how-to. Just like your best friend & next-door neighbor, our "expert" team along with our everyday "regular people" bloggers– are sharing their best tried & true material that helps them live the best "Kosher" Life!
To check out our daily kosher lifestyle posts and kosher recipes visit http://www.kosherstreet.com & come be a part of their neighborhood.
# # #