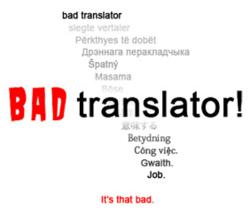 We developed Bad Translator to show just how funny translations can get using machine translators
New York, NY (PRWEB) July 24, 2011
Bad Translator received its 750,000th visitor this week at its homepage, http://www.ackuna.com/badtranslator.
Created by Ackuna, the online cloud-translator, Bad Translator utilizes free online machine translation tools to translate text back and forth between different languages. Similar to the children's game 'Telephone', the end result is more often than not a mix of grammatically incorrect translations and nonsense.
"We developed Bad Translator to show just how funny translations can get using machine translators," says Alex Buran, founder of Ackuna and Bad Translator. "Oftentimes, translating text into just one language using a machine translator can be funny enough, but translating that same text multiple times can create a pretty surprising and hilarious result when compared with the original."
Users can go to the Bad Translator website, enter any initial text in English (250 characters max), choose the number of translations they would like their text to go through, and click 'Translate!' to get the result. After the text is run through the desired number of different language translations, the final translation is displayed. Users are then given the option to post their results on their Facebook page, if they'd like.
From its initial launch, Bad Translator has had immediate success with little to no advertising. "Almost instantly, Bad Translator started generating about 50-100 hits a day," says Alex Buran. "Popularity of the website spiked when it started being written about on popular meme blog sites."
Since then, visitors have grown exponentially. Bad Translator has already developed a huge following on their Facebook page. With over 27,000 fans currently, along with continuous daily wall postings, it appears Bad Translator's popularity will only continue to grow.
For more information on Bad Translator, please visit http://www.ackuna.com/badtranslator.
###