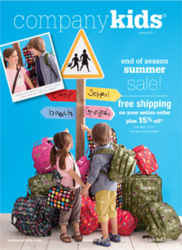 Catalogs and online stores are offering healthy discounts and free shipping to garner a significant portion of back-to-school spending this year. -- Leslie Linevsky
(PRWEB) July 26, 2011
Savvy parents and students doing back-to-school shopping will seek out online savings and free shipping to drive the first significant spending spike that Catalogs.com expects this year across the 740 online stores and catalogs it represents. Retailers and others in the commerce industry watch back-to-school spending because it traditionally helps predict consumer confidence and the upcoming holiday retail figures.
"This year online stores are marketing even more aggressively to back-to-school shoppers, whose total spending is expected to go up or at least stay even with last year," says Leslie Linevsky, co-founder of Catalogs.com. "We already see retailers offering significant savings and deep discounting. In order to attract back-to-school shoppers, many retailers are lowering the spending level for free shipping, or even offering free shipping across the board. Retail websites are being proactive, knowing that they are competing with brick-and-mortar stores, and courting thrifty buyers who comparison-shop on the internet."
The back-to-school shopping season, which runs from mid-July through August, is exceeded only by total consumer holiday spending in December, making it the second most important consumer spending event of the year. Last year, bookstore sales in August totaled $2.5 billion, according to 2010 Monthly Retail Trade and Food Services census data, a figure not touched by any other month. The same report put clothing spending at $7.2 billion, outpaced during the winter holidays, but not at any other time during the year.
"Back-to-school spending positively affects every category at Catalogs.com," says Linevsky. "School needs are wide ranging: clothing for kids and teens, shoes, office supplies and stationery, sporting goods, education and school supplies, books and software, electronics and backpacks. With three kids of my own, fall becomes a seasonal spending ritual for me as well – buying everything from alarm clocks and volleyballs to software and jeans."
The National Retail Federation's 2010 Consumer Intentions and Actions Back to School Survey cited an upward annual trend in family spending on back-to-school gear after a backslide during the economical distress of a couple years ago. Most forecasters expect consumers to delay back-to-school shopping this year, with more using the internet to comparison shop, print coupons and take advantage of online shopping deals. Consumer spending this year is projected to keep pace with 2010 despite a rocky four year retail period, according to the NPD Group annual back-to-school study of purchasing intentions (NPD Annual Back-to-School Spending Intentions Report, July 18, 2011). Back to school spending of $67.2 billion in 2010 was up 3.2% from 2009.
"We are encouraging the online stores featured at Catalogs.com to advertise back-to-school specials early in order to be competitive," says Linevsky. "And they should plan on 'staying late,' because many back-to-school shoppers wait until the last minute to find bargains to minimize the impact of school shopping on their wallets. Online retailers have to promote the ease, convenience and frugality of shopping on the web to capture back-to-school dollars. Customer service is just as important now as ever: websites must work smoothly, customer support must be immediate, items must ship quickly and returns must be simple."
About Catalogs.com
Since 1996, shoppers have universally recognized Catalogs.com as a trusted premier shopping service, attracting more than 1,000,000 unique visitors each month. The comprehensive Catalogs.com website, newly launched Catalogs.com for iPad and Catalogs.com online catalogs feature over 740 major and specialty retailers and provide shopping access via web, iPad and mobile phone platforms.
###