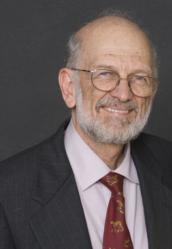 His development of instruments/techniques applicable to the analytical chemistry aspects of life sciences enhance and complement our program, which offers a significant number of presentations and posters directly related to the life sciences.(Grabowski)
Pittsburgh, PA (PRWEB) July 28, 2011
The Pittcon Program Committee is pleased to announce that Dr. R. Graham Cooks, Henry B. Hass Distinguished Professor, Analytical Chemistry, Purdue University, will deliver the Pittcon 2012 Plenary Lecture, "Ambient Ionization and Mini Mass Spectrometers: In situ MS for Everyone." The Plenary Lecture will be part of the Opening Session for Pittcon 2012 which will be held in Orlando, Florida, from March 11-15, 2012, Orange County Convention Center. Dr. Cooks' presentation is scheduled for Sunday, March 11, and will be followed immediately by a complimentary mixer and poster session.
Graham Cooks received Ph.D. degrees from the University of Natal (now QuaZulu-Natal) and Cambridge University. His interests involve construction of mass spectrometers and their use in fundamental studies and applications. His involvement in minimizing sample work-up and avoiding chromatography contributed to the development of the ambient ionization methods, including desorption electrospray ionization (DESI).
In addition to citation honors including One of Four Most-cited Analytical Chemists (Current Contents 1983) 1983 and Highly Cited Chemist, 1981-1999, 1 of 98 chemists, (ISI Institute for Scientific Information), Dr. Cook has received numerous honors including the most recent in 2011, Outstanding Graduate Mentor Award, Purdue University; Centenary Prize, Royal Society of Chemistry; and Sigma Xi Monie A. Ferst Award. Graham is an accomplished author and co-author on books such as "Collision Spectroscopy", "Organic Structural Analysis", and "Metastable Ions" and has served on many advisory, editorial, and committee boards. Other credits include U.S. patents, consulting work, and professional memberships including elected fellow at the American Academy of Arts and Sciences and American Association for the Advancement of Science.
The 2012 Pittcon Program Chairman Joseph Grabowski commented, "We are very honored to have Professor Graham Cooks as our plenary speaker. Professor Cooks' research and instrument developments have been applied to societal issues ranging from the safety of food products, novel detection techniques in forensics, both routine and sophisticated analyses in the pharmaceutical industry, and to security at the airport, among others. He further stated, "His development of instruments and techniques applicable to the analytical chemistry aspects of life sciences enhance and complement our program, which offers a significant number of presentations and posters directly related to the life sciences."
Get more information and view video clips on Graham Cooks at Plenary Lecture.
About Pittcon
Pittcon® is a registered trademark of The Pittsburgh Conference on Analytical Chemistry and Applied Spectroscopy, a Pennsylvania non-profit organization. Co-sponsored by the Spectroscopy Society of Pittsburgh and the Society for Analytical Chemists of Pittsburgh, Pittcon is the premier annual conference and exposition on laboratory science. Proceeds from Pittcon fund science education and outreach at all levels, kindergarten through adult. Pittcon donates more than a million dollars a year to provide financial and administrative support for various science outreach activities including science equipment grants, research grants, scholarships and internships for students, awards to teachers and professors, and grants to public science centers, libraries and museums. Visit Pittcon.org for more information.
# # #