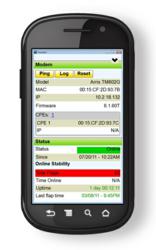 With TechVizion, a technician with an android-based smartphone or iPhone can pull up any modem on the plant from any location.
San Francisco, CA (PRWEB) July 25, 2011
ZCorum announced at the NCTC show today the availability of a new mobile client called TechVizion. TechVizion is an app that works in conjunction with TruVizion, the company's popular web-based software that provides diagnostics and reporting for cable modems, CMTS and VoIP devices.
"There's a definite need among our customers for a convenient and cost-effective mobile diagnostics solution for their technicians in the field," said Scott Helms, ZCorum's Vice President of Technology. "A device like a DOCSIS Analyzer can easily cost $5,000 or more, which is significant even for bigger cable companies, especially considering the number of technicians they have and that analyzers need to be replaced every few years. Also, smaller providers can't afford them, so their technicians often go without, or at best they'll have a meter that provides very limited information."
Helms said TechVizion can do much of what a proprietary piece of test gear like a meter or DOCSIS analyzer can do, and a whole lot more. "Besides being expensive and bulky, proprietary equipment can only retrieve data from the device it's connected to, and can then only see what's happening at that moment. With TechVizion, a technician with an android-based smartphone or iPhone can pull up any modem on the plant from any location and view current RF statistics for that modem, and even see stats for the upstream channel the modem is connected to, which can help determine if the problem is located in the home or elsewhere."
Helms said another big difference between TechVizion and the usual equipment cable technicians walk around with is the ability to view historical data. "For any modem we display important historical data such as total flaps, codeword errors, and bandwidth transmitted over the last 24 hours. Plus, with a single touch you can chart the key RF stats for the modem over that timeframe. You can even overlay those charts with stats from the five modems that are closest geographically to compare readings and check for obvious trends or deviations."
Arthur Skinner, Vice President of Business Development & Sales at ZCorum, said the new app further extends the value and power of their TruVizion software out into the field. "TechVizion is a great money and time saver. The ability to view current and historical data about any cable modem from a smartphone can greatly reduce the amount of time technicians spend on installations and repair calls." Skinner said TechVizion is also compatible with android-based tablets and the iPad. He and Helms will be demonstrating TechVizion in Booth # 211 at the NCTC Independent Show in San Francisco today and tomorrow.
About ZCorum
ZCorum provides broadband Internet and communication solutions to telcos, cable companies, utilities, and municipalities, assisting in all facets of broadband implementation, integration, engineering and consulting, network monitoring and diagnostics. ZCorum also offers wholesale, private-labeled Internet services, including data and VoIP provisioning, email, Web hosting, and 24x7 support for end-users, enabling service providers to compete effectively in their local rural and suburban markets. ZCorum is headquartered in Alpharetta, GA. For more information, please visit ZCorum.com.
###