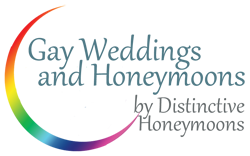 New York, NY (PRWEB) July 23, 2011
Gay and lesbian marriages will be legally binding in New York State on Sunday, July 24, 2011, and in anticipation of this moment, Donna Keane, Director of Distinctive Honeymoons, a division of Protravel International, launched a luxury wedding/travel division Gay Weddings and Honeymoons.
"We feel this is a remarkable time in history," said Donna, "Not only does it allow equal rights for same-sex couples but it will have an enormous impact on New York tourism."
Distinctive Honeymoons are specialists in wedding planning, bachelor/ette parties, wedding and destination wedding planning, Gay friendly luxury resorts and cruises around the world for honeymoons as well as babymoons and anniversaries.
The Honeymoon Gift Registry is an additional unique service, and rather than mundane household items, this offers such romantic experiences as duo-spa treatments, romantic dinners, exotic excursions and more experiences designed to be gifts that will offer couples memories of a lifetime.
Distinctive Honeymoons is a division of Protravel International which was founded in 1984 and is one of the most powerful selling forces in the travel industry catering to the luxury market. Protravel International is the largest Virtuoso Member Agency as well as the largest producer for Virtuoso for the past 6 consecutive years. As a leader in the industry, Protravel is able to offer competitive pricing and aggressive negotiations for the company's diverse client base.
For more information contact:
Donna Keane, Director
Donna(dot)Keane(at)Protravelinc(dot)com
646-747-9387
515 Madison Avenue
New York, NY 10022
# # #