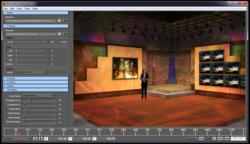 intensiKey 1.0 will revolutionize the way virtual set production is done.
Las Vegas, NV (PRWEB) July 25, 2011
intensiKey is the world's first fully 3D post production virtual set system. It's designed to slip easily into your workflow, taking your unkeyed greenscreen footage and outputting your talent in a true 3D virtual set with camera moves.
intensiKey solves the problems that have plagued even savvy post production professionals; how to do a true 3D virtual set in post production without signifigant time, expense, and technical overhead. intensiKey is quick to set up and render a shot, usually taking only minutes to do both. Compared to the 3D software needed to do a true 3D post production shot our virtual set software is cost effective, and loaded with ready to go content with more available online.
intensiKey is designed to be easy to use, load your footage, add a B source, add a camera move, select your output format, and render. The footage is ready to go straight to the internet, in to your editing program of choice, or anywhere else common video file formats go.
Watch a demo of intensikey in action:
http://www.intensikey.com/Demovideo.htm
Or download the intensiKey Demo to try it out for yourself:
http://www.intensiKey.com/Demo.htm
###