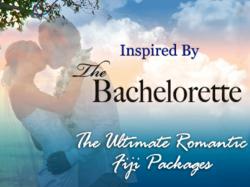 At least once in your life, everyone should have a taste of paradise
Los Angeles, CA (PRWEB) July 26, 2011
PacificIslands.com has introduced a new line of packages inspired by the hit TV show, The Bachelorette, designed to appeal to romantic couples.
Candlelight dinner for two in the rainforests of Fiji? Exploring the magical underwater life of the Koro Sea together? Champagne breakfast? A banana leaf body wrap and couples massage? Picnic on a private beach? What makes the ultimate romantic adventure?
"For anyone inspired by the South Pacific paradise getaways seen on ABC's The Bachelorette, there is good news from PacificIslands.Com," announced today PacificIslands.com' s President Jean-Patrick F. Mouflard.
The ultimate South Pacific travel site is offering Bachelorette-inspired ultimate romantic travel packages in Fiji, perfect for falling in love, falling in love all-over-again, or even celebrating new love.
"At least once in your life, everyone should have a taste of paradise," explained Mouflard. "So many people have been thrilled and seduced by the visions of the South Pacific they've seen on The Bachelorette. They see that Fiji is among the greatest of all romantic destinations. At PacificIslands.com, we want to bring that dream within reach."
Packages feature the luxurious resorts Koro Sun and Namale, located in Fiji Northern group of islands, and Vomo Island Resort in the Mamanuca Islands. These world-famous resort present the magic of the tropics at its most welcoming. The accommodations include world-class amenities such as gourmet meals, spa treatments, top-notch service to pamper every guest, and a complete range of outdoor activities and adventures. In addition to round-trip air travel from Los Angeles, CA on Air Pacific, these packages are brimming with exciting, romantic, exotic extras including the rainforest dinner and others mentioned above, and even more, like a champagne greeting, a coconut-milk foot soak, a waterfall excursion, and a Kava ceremony.
"PacificIslands.Com is proud to be one of a handful of travel companies selected by Tourism Fiji," stated Mouflard. "It means that you can expect from us the best, most reliable service and attention to detail."
PacificIslands.com is the ideal gateway not only for Fiji, but for Australia and New Zealand, the Cook Islands, Samoa, Tahiti, Tonga, and Vanuatu. More destinations will soon be added, including New Caledonia, Niue, the Solomon Islands and Papua New Guinea. Travel is easy to set up by destination, by airline, by resort, or by booking a convenient package plan. From simplicity to luxury, central to remote, relaxing to exciting, private wilderness reserves to five star hotels, virtually any taste in vacation style can be satisfied.
About PacificIslands.com
PacificIslands.com is a unique, customer-focused travel agency specializing in bringing the magic of the South Pacific Islands within easy reach. It was conceived in 1998 by Jean-Patrick Mouflard, born of his passion for this unique and mysterious part of the world. Incorporated in 2008, the company partnered with Tahiti Nui Travel, a major travel corporation in French Polynesia, in 2009. The beta version of the site launched in May 2010, and was opened to the trade and the public in August 2010. In June 2011, the redesigned PacificIslands.com debuted, offering more options and easier access, offering the pacific at the speed of a click.
###