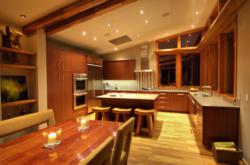 We love the open feeling with all of the windows, yet it is still a small home. The modern design and attention to detail is second to none.

-Stillwater homeowner
Seattle, WA (PRWEB) July 26, 2011
Sustainable, contemporary prefab home designer and builder Stillwater Dwellings (http://www.stillwaterdwellings.com) today announced ten new floor plans have been added to their comprehensive collection of high-end, contemporary prefab homes. Specifically, two of the plans are designed specifically to work on 40' and 60' wide urban lots.
TEN NEW FLOORPLANS
Stillwater's portfolio now answers a wider range of client needs including two sleek new models specifically designed to work on 40' and 60' wide urban lots. Current designs have evolved in response to client feedback and market trends; perfect for view sites, plans align living, dining, kitchen areas, and master bedroom to take full advantage of fabulous vistas. Plans also consider spaces suitable for large and small families, or couples with home office requirements.
To Stillwater, the demand for these types of designs was overwhelming. "We found that our clients were actively looking for a more predictable, more cost-effective alternative in urban areas. They wanted a new, custom home, but the idea of engaging an architect and builder that could only give them an estimate on their home was scary. They wanted a high-end, contemporary home, but couldn't afford it. We think we now have a great solution for those types of clients in urban areas," Bart Mitchell, partner, Stillwater Dwellings.
SMALL HOME… STILL A GREAT ROOM
Unlike common prefab home designs, Stillwater's plans incorporate more great room spaces into smaller homes by using specialized construction and installation techniques. Some as much as 45′ wide, 18′ deep, and up to 13′ tall.
sd224: COMPACT, YET AMAZINGLY EFFICIENT TWO STORY DESIGN
Designed for urban living, this compact four-bed, two-car home works well on many smaller lots. Visitors are greeted by an ultra-thin steel canopy over the entry that appears to float without support. The living and dining rooms open up to a terrace, perfect for indoor/outdoor living. Securely located upstairs are the four bedrooms, plus a reading or computer space and deck off of the master bedroom.
SD225: TWO STORY HOME, PERFECT FOR URBAN FAMILIES
With a distinctive entry, secure garage, and ground floor open living area opening onto a private backyard patio, this plan is perfect for most 40'x100' urban lots.. Four bedrooms plus loft space are located on the upper floor. The structure includes all the signature Stillwater details: butterfly roof, exposed beams, deep overhangs and floating steel entry canopy.
sd232: TWO STORY PREFAB HOME: 2 CAR GARAGE, HUGE GREAT ROOM
Perfect for most 50'x100' urban lots, the dramatic ground floor entry is set back yet visible from the street. A secure two car garage and living areas open up onto the private backyard terrace. A flight of steps on axis with the entry leads to an upper level with four bedrooms and two baths. Corner windows, exposed beams and our signature butterfly roofs offer light and texture in this stylish urban habitat.
BROAD RANGE OF FLOOR PLAN SIZES AND LAYOUTS
Stillwater Dwellings' light-filled spaces range from simple studios – perfect for guest quarters or detached workspaces – to elegant 5 bedroom homes. Various plans feature asymmetrical collections of public and private rooms incorporating wings and pavilions, creating courtyards and quiet enclosures. Window-filled rooms with expansive glass doors are oriented to terraces and landscape, accommodating the trend toward indoor/outdoor living. Three distinct style packages include Modern, with its clean lines, contemporary aesthetic, and minimalist textures; Natural, showcasing warm wood and an airy color palette; and Fundamental combining value with enduring style and construction.
ABOUT STILLWATER DWELLINGS:
SUSTAINABLE FEATURES:
All Stillwater homes include a high level of green and sustainable living features: low VOC paints, dual flush toilets, ultra-high efficiency heating and hot water systems, natural wool carpeting, prefinished/engineering eco-friendly wood flooring, Marmoleum, engineered quartz slab countertops, over-insulated walls/ceilings/floors, and high-efficiency windows with argon gas and low-e film.
EXCEPTIONAL QUALITY:
All Stillwater homes are built indoors, in climate-controlled conditions to the highest quality standards and the IRC code; the same code that governs conventional site built homes. Homes are transported as 96% complete modules, installed and finished on-site by Stillwater Dwellings. Stillwater believes in utilizing proven, time-tested construction methods, not 'gimmicky' process.
PREDICTABLE COST:
All Stillwater clients are given fixed, up-front pricing on their home before any construction begins. Unlike traditional site-built home clients who are given estimates that commonly are exceeded during the building process, Stillwater clients contractually know what their home will cost before they begin.
COMPANY PROFILE:
Founded in 2008, Stillwater Dwellings is a Seattle-based company that designs and builds high quality, prefabricated, contemporary homes featuring quality materials, fine detailing, and eco-friendly features. Our process is the predictable and smart alternative to site-built homes.
The major benefits to our clients are:

Sustainable, contemporary architecture
Upfront fixed pricing
A straightforward design modification process
Faster occupancy than the usual design/build process
Exceptional value
All homes have their signature soaring butterfly roofline, unique interior light shelf and exterior "visors", plate steel entry canopies, and efficient layouts that emphasize indoor/outdoor living and entertaining. We build in an indoor, controlled environment in Oregon, in just a matter of weeks to obtain the highest level of quality, while drastically reducing waste and keeping costs lower and more predictable than a typical site-built home. Our designs are stunning, and shun the typical constraints of "boxy" or overly modern prefab homes.
Stillwater Dwellings portfolio also includes finished homes in Bend and Portland, Oregon, Santa Barbara, CA, and Southern Utah, as well as buildings in production and planning stages in Roslyn, WA, Los Angeles, and Northern California. Stillwater Dwellings homes are available throughout the western region of the US, as well as Alaska, Hawaii, and Canada.
PRESS KIT & ADDITIONAL/HI-RES IMAGES:
For a complete press kit, hi-resolution images of the interiors, and company overview and bios, please visit our FOR THE PRESS page at http://www.stillwaterdwellings.com.
###