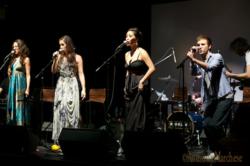 New York City, NY (PRWEB) July 24, 2011
Four aspiring NYC singer/songwriters produced an uplifting evening of funk, soul, and R&B musicthat wowed a full house at the famous Highline Ballroom last Sunday evening July 17, 2011. Alisha Zalkin conceived the Benefit Concert in support of the Playing for Change Foundation,http://www.playingforchange.org, inspired by the story of her grandmother whose own singing career was cut short by the Holocaust. The Foundation is dedicated to connecting the world through music by providing resources to musicians and their communities around the world. PFC is dedicated to the fundamental idea that peace and change are possible through the universal language of music.
Also featuring Brooke Ishibashi, Devyn Rush, Nick Moran and a band of incredible musicians, the group raised nearly $3,000 for the Foundation. PFC representative Anna Glander was in attendance to announce the first-ever Playing for Change Day on September 17, 2011. To learn more about the Playing for Change NYC Benefit Concert and upcoming events for Playing for Change Day in NYC, please visit: http://playingforchangenyc.tumblr.com.
CONTACT:
Amy Hall
playingforchangenyc(at)gmail(dot)com
###