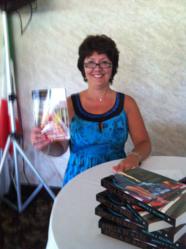 Restaurants, Red Wine, & Louie Morelli's Daughter!
Detroit, MI (PRWEB) July 26, 2011
On the evening of June 21, crime thriller author Patricia Bellomo had a book-signing and promotional party at ERNIE'S Mediterranean Room in Clinton Township. At this event Patricia Bellomo signed and sold copies of her latest novel, Louie Morelli's Daughter.
As part of her promotional tour, Patricia Bellomo, in conjunction with Sam Backos, owner of ERNIE'S, gave away gift certificates for dinner at ERNIE'S Mediterranean Room. Prizes were drawn raffle style at the end of the evening and included bottles of Chianti and Sangiovese with personalized labels depicting the cover of Louie Morelli's Daughter.
The wine was purchased from Filipo Marc Winery in Clinton Township. Ms. Bellomo plans to bottle more wine, preferring to use the book cover of Louie Morelli's Daughter for Italian reds and the cover of her first book, Stella di Mare, for whites. "Louie likes Chianti," says Patricia Bellomo, referencing her main character, Louie Morelli. "My characters dine out frequently and there is always wine on the table. So I thought this would be a good touch."
The book-signing began at seven p.m. and by eight o'clock ERNIE'S huge bar and patio was packed. It was a great boost for Patricia Bellomo, who sold over two-hundred signed copies of Louie Morelli's Daughter, and for ERNIE'S, whose food and bar business was quadrupled on an otherwise slow night. According to co-owner Marlena Backos, "Patricia Bellomo can have a book-signing here whenever she wants."
Also available for purchase were signed copies of Ms. Bellomo's first novel, Stella di Mare.
Patricia Bellomo has recently appeared at the Italian-American Cultural Center, participating in a fundraiser along with several prominent entertainers and artists. Other local hotspots for book-signings include Macomb County's famed Luciano's Restaurant and the Harrison Township Library. Books have been sold at Andiamo's on Detroit's riverfront, and at the classic and classy Roma Cafe in Detroit's Eastern Market. Ms. Bellomo recently completed a round of radio interviews and Kristen Skladd of MacombPatch, a local newsletter, has just concluded an interview for an upcoming article.
Patricia Bellomo's books are set in glitzy south Florida, and although the author frequently visits the area, she lives in Clinton Township, a suburb of Detroit. Her books can be purchased at Amazon.com, all on-line retailers, and at your local bookstore. Kindle and ebook versions are available. You can also purchase her books through her website, which will link you to your retailer of choice.
###