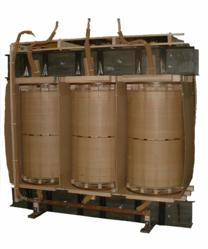 "Insulation failure is the #1 cause of power transformer failures"
Roanoke, VA (PRWEB) July 27, 2011
Knowing that insulation failure is the #1 cause of power transformer failures, Virginia Transformer works especially hard to provide the most stable, reliable insulation possible for its customers, in order to guarantee them the utmost in transformer life and reliability. The work starts in VT's Engineering Department, and continues through its state of the art manufacturing processes.
During the design process, VT's engineers consider not only the voltages that will be applied, but also the site conditions, as both of these factors can greatly impact the durability of the insulation. Harsh site conditions may require greater insulation than that indicated merely by the voltages the transformer will be subjected to. If this is the case, then the engineers may require more insulation in the manufacturing process, and more stringent testing standards than those requested by the customer. The Engineering Department even takes into account the manufacturing process itself, and the possibility of potential slight, undetected damage to the insulation during that process – and here again may specify more insulation than the minimum required to meet the customer's specifications.
Winding is crucial. Winding doesn't simply need to be done "right" – it needs to be as close to "flawlessly perfect" as possible in order to insure maximum reliability. Virginia Transformer works to make this happen in a number of ways – first, by expertly training its winders in specialized types of windings; secondly, by having their work inspected and checked at frequent intervals during the process; thirdly, by qualifying winders in their specific skills on an ongoing basis. Over the years, VT has increased the number of points along the way in the manufacturing process at which work is inspected and double-checked, and also increased the required training for workers in all phases of its manufacturing operation.
Testing has also been increased, and includes such things as testing the insulation at high voltages, per rigorous standards. VT utilizes corrective action reports to immediately address any problems that might arise in the manufacturing process. Numerous inspections and checks occur prior to the filling of liquid-filled transformers.
Virginia Transformer continually strives to be #1 in its efforts to prevent the #1 cause of power transformer failures, with exceptional quality and reliability standards.
Virginia Transformer Corporation is one of the largest U.S.-based power transformer manufacturers, with three North American plants supplying custom-designed transformers for every market from Utilities, to Industrial and Mining, to Renewable Energy and Data Centers.
For more information, contact us at (540) 345-9892, or email Sales(at)vatransformer(dot)com
###