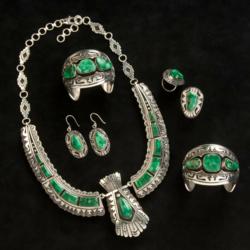 Singer says "I express the Diné Spirit in each piece of jewelry I create."
Pagosa Springs, Colorado (PRWEB) July 28, 2011
"I saw you on TV last night," master Diné jewelry artist Tommy Singer said referring to a local access TV commercial featuring Lantern Dancer Gallery owner Doris Green. Lantern Dancer has sold Tommy Singer's Native American jewelry for several years, yet the two had never officially met until that day in 2011. Singer and his son Ben visited with Green for several hours and during their first face-to-face conversation, Singer showed her a photo of a Native American Indian necklace he designed in 1970, then he told her he wanted to re-create the line of jewelry and have Lantern Dancer handle it exclusively. The Mother Earth™ collection was born.
The first ensemble, Rebirth™ by Tommy Singer, is symbolic of renewal. The design features a rich, green gemstone from Utah known as Variscite. The color is reminiscent of the reawakening spring set in layers of hand-stamped sterling silver symbolic of the life flow of water as it comes from the clouds, the sky, the mountains and circulates into rivers. The complete set of Rebirth™ is one-of-a-kind and includes a necklace, two cuff bracelets, a pair of earrings, and rings for each hand. Available for purchase as a complete set to be worn in the Navajo tradition, each piece is numbered and comes with a certificate of authenticity signed by Tommy Singer.
It is traditional for Diné women to wear a complete set of jewelry: necklace, a cuff on each wrist, a ring on each hand and earrings for special occasions. Each day when the sun rises banishing the dark, we are renewed. Therefore, it is appropriate that this first collection be called Rebirth™ and be made of Variscite.
By mixing traditional methods of jewelry making with new found materials and techniques, Tommy Singer continues to revise his signature style. In the Mother Earth™ collection he is not only the designer, but is personally selecting the highest-grade, cut and polished stones, inlaying them in silver crafted by his own hand. His mastery of materials and years of experience provide him with an opportunity to recreate previous concepts in an entirely new way.
There is only one Rebirth™ . It is a priceless collector's piece and there is only one place to purchase the ensemble and future ensembles in the Mother Earth™ collection — Lantern Dancer Gallery.
On August 6, 2011, Tommy Singer will make a rare personal appearance at Lantern Dancer Gallery in Pagosa Springs, Colorado from 11-5, when the second set in the Mother Earth Collection will be unveiled. He will also be available for interviews with the media during that time. Please contact Lantern Dancer to arrange.
Lantern Dancer specializes in Contemporary Southwestern Jewelry, including handmade one of a kind Native American Indian Jewelry. We pride ourselves in having a wide variety of gemstones from around the world. We carry Collectors Pottery, Kachinas and Fine Art. Calvin Begay, Alfred Lee, Tommy Singer, Ronnie Willie and Vernon Phillips are all represented in our store. Santa Fe Quality at Pagosa Prices.
###