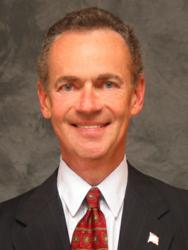 "I am delighted to take the helm of what might well be the finest organization of its kind in the world," says Mr. Kent.
Los Angeles, CA (PRWEB) July 23, 2011
J. Gaston Kent has been named President and Chief Executive Officer of John Tracy Clinic (JTC) effective July 1, 2011. Founded in 1942 by Louise Tracy, wife of actor Spencer Tracy, JTC is a pioneering center for young children with hearing loss and their parents, serving 25,000 families a year worldwide.
Mr. Kent, who had been an active member of the John Tracy Clinic Board of Directors for the past three years, has taken full executive responsibility for the operation and sustainment of the nonprofit organization.
Said Board Chair Joan Payden, in announcing Mr. Kent's acceptance of the position, "We are so fortunate to have the extraordinary skills and experience of Gaston Kent available to us at this critical juncture in JTC's history."
Mr. Kent recently retired from the Northrop Grumman Corporation, where he served as Vice President of Finance, responsible for business oversight of all major programs within the company. Previously at Northrop Grumman, he served as Vice President of Investor Relations and Vice President and Assistant to the Executive Vice President of Operations. Mr. Kent was born in Scottsboro, Alabama. He received a B.S. in finance from the University of Alabama and an M.B.A. from the University of Texas at San Antonio. He completed the Harvard Program for Management.
"I am delighted to take the helm of what might well be the finest organization of its kind in the world," says Mr. Kent.
JTC provides comprehensive audiology and education services for families with young children who have, or are at risk for, permanent hearing loss, including infant hearing screening, preschool and parent education. The organization's goal is to educate parents on how to immerse their young deaf and hard of hearing children in spoken language in preparation for mainstream schools. JTC, with campuses in Los Angeles and Long Beach, also offers an international program through the mail and internet and an accredited Master's Degree program for teachers. Family services are provided at no cost to the parents.
John Tracy Clinic, which celebrates its 70th Anniversary in 2012, is supported by individual donations, bequests and grants. For more information, visit the website at http://www.jtc.org or contact Blythe Maling, Vice President of Development and Marketing, John Tracy Clinic, 806 W. Adams Blvd., Los Angeles, CA 90007, (213) 748-5481, ext. 229 or bmaling(at)jtc(dot)org.
###