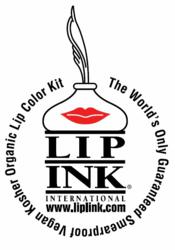 El Segundo, CA (PRWEB) July 25, 2011
LIP-INK® International, the global leader in innovative cosmetic formulation, invites women to trade in their old long-lasting lipstick for the next generation of guaranteed smearproof liquid lip color. Using cutting edge technology and natural, organic ingredients, LIP-INK® has revolutionized the lip color industry with the launch of their semi-permanent LIP-INK® Liquid Lip Color and color cosmetics line. Makeup professionals, Hollywood and the fashion elite have long depended on LIP-INK semi permanent lip color® that lasts all day and night without smearing or smudging. In a push to bring their award-winning, patented products to the mainstream, LIP-INK® has launched a promotion that will literally bring this revolutionary product right to your doorstep.
LIP-INK® International's Upgrade for Free Campaign allows women to simply mail in their dated, long-lasting lipcolor in exchange for a complimentary guaranteed smearproof, semi permanent LIP-INK® Liquid Lip Color kit. It's easy, it's free, and it will change the way women look at cosmetics forever.
LIP-INK® Liquid Lip Color Features & Benefits:

Guaranteed Smearproof
Natural & organic
Deeply moisturizing
Full-spectrum UVA & UVB sun protection
Kosher & vegan
Comes with gentle botanical lip color remover
Hand crafted in small batches from more than 40 herbs and botanicals
No animal testing & cruelty free
8 US and foreign patents
Highly resistant to fading and feathering
Formulated with the finest herbs and botanicals
Provides a tingly fresh sensation when applied
Self manufactured in the USA
Adheres to the strict guidelines of the CTFA as well as the FDA.
Upgrade For Free Campaign Promotion Details
LIP-INK® International is asking cosmetic users to send in their old, ineffective "long-lasting" lipstick tubes to sample LIP-INK®'s guaranteed smearproof botanical, long lasting, guaranteed smearproof lip color for free, with absolutely no product or shipping cost whatsoever. In accordance with LIP-INK® International's commitment to green business practices, all of the lipstick tubes that are received will be safely recycled.
To participate in LIP-INK® International's upgrade program consumers simply need to download and submit a form to the address listed at http://www.FreeLipInk.com, where additional instructions and product information can be found.
Participants will receive a complimentary trial permanent lip color kit featuring either the latest Rosewood or Sandwood colors (valued at $16.50), complete with free shipping and handling. This special promotional offer is valid only while supplies last.
Supporting Quote:
"Once women try our wax-free and organically formulated line of liquid lip colors, they will never want to wear those other long-lasting, waxy lipsticks again." stated Rose Nichols, the official 'Lip Diva®', founder and chemist behind the revolutionary LIP-INK® International. "Our product line is so technologically advanced, it's been granted 8 US and foreign patents. It is formulated with the finest herbs and botanicals, and offers moisturizing and a tingly fresh sensation. It provides full-spectrum UVA & UVB sun protection, and is guaranteed to be smear-proof. There is also an herbal remover to precondition and remove the color when you want to take it off."
About the Product
While ordinary long-lasting lipsticks last several hours, they contain synthesized chemicals, smear and dry out quickly, appear cakey and eventually flake away. LIP-INK's® long-lasting guaranteed smearproof lipsticks, on the other hand, are not only long-lasting, but they are also deeply hydrating, all natural, semi-permanent, and 100% guaranteed smearproof. It is all thanks to their superior multi-patented formulation. The technology and science behind the LIP-INK® is the only of its kind, and the result is liquid lip color that will comfortably stay on all day, in the shower, when having a drink or eating a meal. You can even wear it to bed! It literally has 24-7 staying power and is guaranteed not to smear, even under water. This extraordinary product will not come off until you choose to take it off using the specially formulated botanical remover/conditioner. The best part? All LIP-INK® products are formulated from natural and organic ingredients and provide full-spectrum UVA & UVB sun protection, making them healthy and safe.
LIP-INK® is an entirely new approach to lip color and with innovative technologies come new guidelines. Proper application is essential to achieve optimum performance and the guaranteed results. Always apply LIP-INK® products in accordance with the instructions provided. Application is easy; but it must be done correctly. Each component of LIP-INK® liquid lip color is formulated to work specifically together, and cannot be substituted with other lip products.
LIP-INK® International Company Profile
LIP-INK® International was established in 1995 by Rose Nichols, the chemist, President and CEO of the company. Today LIP-INK® is the world's leading manufacturer of guarantee smearproof, semi permanent cosmetics and lip stain lipstick.
LIP-INK® International & Lip Diva® are a united partnership that offers the only wax-free, smear-proof cosmetics in the world with a product line containing over 550 natural, personally hand-crafted products.
Every LIP-INK® product is manufactured by LIP-INK® in the USA using cutting edge technology, green chemistry and natural and organic ingredients.
LIP-INK® International follows the strict guidelines of the CTFA as well as the FDA.
The LIP-INK® collection is comprised entirely of organic & natural makeup that is highly innovative, safe, and environmentally friendly. All the lip colors are organic, wax-free, vegan, and kosher.
The lip color collection demonstrates staying power that will keep lips colored until you wish to remove it.
Lip Ink® International has a full line of cosmetics including Miracle Brow®, Miracle Brow® Tint, lip liners, eye liners, lash tint, Wax-less Lip Balm™, tinted shine, lip plumpers and more!
Contact Details:
LIP-INK® International
customerservice(at)lipink(dot)com
105 Eucalyptus Dr. El Segundo, CA 90245
Phone 310/414-9246 fax 310/414-9233
###