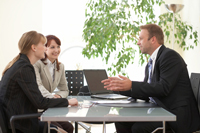 Looking at the problem from a different perspective allowed us to come up with a refreshing solution.
Calabasas, CA (PRWEB) July 27, 2011
Business Services For U, Inc., a business to business sales and marketing company that helps clients maximize the efficiency of their basic sales and advertising expenses, has launched a totally new website to assist unemployed Americans looking for employment opportunities, career alternatives, and part time jobs so that they can get back on their feet financially without going through the drudgery and rejection currently found when looking for a job.
By stepping back and thinking outside of the box, the website was designed specifically to help as many Americans as possible that are currently looking for employment opportunities career alternatives , and part time jobs in today's extremely competitive job market.
With the United States Department of Labor published unemployment rate at over nine percent nationally, and over fourteen million American workers out of a job, many who's unemployment benefits have run out, the picture is bleak, to say the least.
In a report released by The U.S. Congress Joint Economic Committee on May 31, 2011, the overall unemployment rate for military veterans is 8.7%.
And according to CBS News, the African American unemployment rate is currently at 16.2%. For black males, it's at 17.5 percent. And, for black teens, it's nearly 41 percent.
And don't forget this year's group of college graduates. They represent a few more million people looking for work who just invested a lot of money in their future. Many of which have high balance student loans to deal with soon after graduating.
"There has never been this much competition for the limited number of jobs available in the current generation of American workers.
This is a brand new direction and service for a company that has been working strictly with businesses for over thirty seven years. There are tremendous voids in helping Americans find opportunities that can be financially lucrative for them," says Barry Brenner, Vice President of Marketing.
Webinars are being held daily at http://www.americansoutofwork.com to explain how people can make good money in a bad economy by taking advantage of existing relationships. It's a very simple concept that the average person can utilize to give them more time until the right employment opportunities, career alternatives, or part time jobs become available.
###