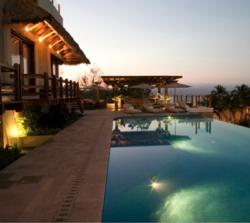 Isla Navidad, Mexico (PRWEB) July 25, 2011
Through September 2011, guests can experience Casa Colina's five-star services and amenities at low season prices that are nearly 50 percent off regular rates.
Isla Navidad, Mexico – Iconic beaches and spectacular natural wonders make Isla Navidad near Puerto Vallarta a must-see destination this summer especially for couples seeking a romantic escape or families wanting to take one more vacation before their children return to school. Vacationers can visit the area's volcanoes, hike around its mountains, and sunbath at its sandy beaches. In the heart of this picturesque area along the Pacific Ocean is one of Mexico's most luxurious villas, Casa Colina, an ideal choice for families, couples, and even girlfriend parties looking for a secluded, five-star getaway with their own staff, private pool, gourmet meals, and beautifully appointed guestrooms
This summer Casa Colina is offering unbeatable low season rates that make staying at the ultra luxurious villa more affordable than ever. Now through September 2011, low season rates begin at $2900 per night, nearly 50 % off Casa Colina's high season prices of $4900. The six-bedroom Casa Colina is also offering a 5% discount per bedroom not used during a guest's stay. For example, if a guest had eight people in their party and required only four rooms, they would get a 10 % discount for not using the two other bedrooms. Rates include airport pickup and drop off, private chef and staff, and laundry services. Rates exclude food, beverages, and phone charges.
Casa Colina is stunningly designed high above the ocean waters below. Its location perched atop a hillside offers guests 360-degree views of the lush countryside and jewel-toned seawaters. Guests can spend their days relaxing in the sun and enjoying their own outdoor private pool and terrace where lunch can be served or cocktails enjoyed at sunset. Casa Colina's expansive outdoor area includes an infinity-edge pool, blue-tiled Jacuzzi, gourmet BBQ, and plush lounge chairs and umbrellas. Guests also have access to Casa Colina's surround-sound home theatre with a 65" Panasonic plasma TV, satellite receiver, and DVD player, as well as a fitness center with state-of-the-art machines, chilled towels and water and fold-back windows with views of the ocean and mountains.
A private staff tops off Casa Colina's list of luxury amenities. The villa's staff is onsite everyday to meet guests' needs and is devoted to the highest standards of service helping to make Casa Colina a second home for its visitors. Guests can be treated to massages by the pool, personally tailored meals prepared by a private chef, or a romantic dinner set up out on the terrace with candles floating in the pool, views of the sun setting, and chilled champagne served. Other dining options at the villa include the chic indoor/outdoor Top of the World Palapa with a custom-built Estrella chandelier, fully-stocked bar, and views of the mountains and ocean and the Lagoon View Lounge with a hand-laid brick cathedral ceiling and Balinese furnishings.
For guests who want to explore the area near Casa Colina, the villa's staff can arrange several day trips including the quaint and romantic beaches in Barra de Navidad and the famous Playa La Audiencia on Santiago Peninsula where Bo Derek's movie 10 was filmed. Guests can also see the 5 million-year-old Colima volcano, which is the most active volcano in Mexico, or go horseback riding on the beach. For those with an adventurous spirit, kayaking, snorkeling, and scuba diving in the Pacific Ocean can be arranged.
Golf enthusiastics who are staying at Casa Colina have access to the famous Isla Navidad Grand Bay Resort, an AAA four-diamond hotel located near Casa Colina with a 27-hole golf course; lagoon-side tennis courts; horseback riding; water sports such as kayaking and catamaran Hobie Cats; and deep-sea fishing available year-round at the Grand Bay Aquatic Club.
Casa Colina's spacious six guestrooms are private oases of relaxation and luxury. Each guestroom is impeccably designed and furnished, including junior and master suites with balconies, private gardens, Jacuzzi tubs, and panoramic views of the ocean and mountains. Guestrooms can be tailored for families and children or can be set up for couples staying at Casa Colina for their honeymoon or a romantic getaway. Descriptions of Casa Colina's guestrooms include:
Laguna Suite: Master bedroom suite with a California King bed, shower, Jacuzzi tub, private garden, breakfast table, and plush loungers.
Sueno Suite: Master bedroom suite with a California King bed, shower, Jacuzzi tub, outdoor shower, and private garden.
Oceano Suite: Master bedroom suite with a California King bed, shower, and a walkout balcony.
Luna Suite: Master bedroom suite with a California King bed, shower, and a walkout balcony.
Estrella Suite: Junior bedroom suite with a California Queen bed, shower, Jacuzzi tub, and walkout balcony.
Vista Suite: Corner bedroom suite with two queen beds, shower, Jacuzzi tub, and a walkout balcony.
Casa Colina's low season rate of $2900 per night is offered through September 30, 2011. Other prices include Casa Colina's high season rate of $4900 per night December 1, 2011 through January 31, 2012 and its mid season rate of $3800 per night October 1, 2011 through November 20, 2011 and also February 1, 2012 through April 30, 2012. A 50% deposit is required to secure booking. Balance is payable 14 days prior to booking. Security and provisioning deposit is equivalent to one night's rate. Rates include airport pickup and drop off, chef, staff, and laundry but exclude food, beverages, and phone. During its low season period, Casa Colina also offers a 5% discount per bedroom not used.
For more information about Casa Colina, visit http://www.casacolinamexico.com or call 1- 312-479-2874.
Casa Colina is luxurious private villa located along Mexico's Pacific Coast between Puerto Vallarta and Acapulco. The intimate, upscale experience at Casa Colina includes six suites with ocean and mountain views; a private chef and staff; infinity-edge pool; fitness center; and indoor and outdoor elegant private dining areas with cathedral ceilings, fireplaces, and private bar space. Considered one of Mexico's most stunning private villas, Casa Colina is ideal for girlfriend getaways, bridal parties, honeymoons, couples getaways, and family reunions. Rates start at $2,900 per night. Closest airports include regular domestic flights from Guadalajara (30 minutes) and Mexico City (50 minutes), and Playa de Oro International Airport is just 25 minutes away.
Photos available by request.
###