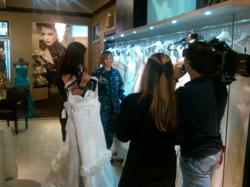 (PRWEB) July 25, 2011
Last Monday July 18th several brides-to-be received their dream wedding dress for free from Bridal Reflections of Manhattan. The gowns were awarded to military personnel or fiancés of personnel on active duty as part of the Brides Across America program, the bridal industry's way of giving a big thank you to our troops. ABC News was on hand to film the event.
Bridal Reflections has been participating in this program for the last several years. Bridal specialist Jessica Frances says it's a pleasure to "be able to give back to them…put a smile on their face." Along with 28 salons across the country, Bridal Reflections is participating in the 2011 Wedding Gown Giveaway Event.
Naval officer Malika DeRios, whose fiancé serves in the army, was transformed when she slipped out of uniform and into a couture bridal creation. "You really don't know what you look like because I'm always in this…" DeRios said, referring to her uniform.
Diana Quintos, another military bride, chose a lovely designer gown with a large side bow. Diana says "I feel blessed. I really appreciate it." Carry Fall of Babylon, who's fiancé is on active duty in Japan, also received her new dress on Monday.
Check out the ABC News story at http://abclocal.go.com/wabc/story?section=news/local/new_york&id=8257108.
For more information call 212.764.3040 or visit http://www.bridalreflections.com and http://www.bridesacrossamerica.com. For press inquiries please contact Eda Kalkay of Eda Kalkay Productions 212.877.5551
###
.