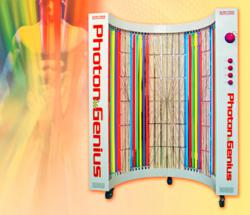 provides healing and rejuvenation from the inside out
(PRWEB) July 23, 2011
The Skilling Institute will be demonstrating the groundbreaking Photon-Genius Energy Sauna this Friday at the 2011 ExtraOrdinary Technology Conference. This world recognized annual conference, hosted by TeslaTech at the Marriot in Albuquerque, attracts attendees from all over the US and other countries Canada seeking to learn the latest in technological advances. It will run from July 28th through July 31st.
This National conference features over a dozen leaders in the most advanced technologies related to energy conversion, optimum health, and much more. Vendor booths are open and free to the public.
The Skilling Institute's International Director, Warren Starnes, will present the Photon-Genius Energy Sauna on Friday, July 29 at 8:00 am. The Skilling Institute will also have a booth open to the public for the duration of the conference where they will be on hand to give demonstrations of their Photon-Genius Energy Sauna and Photon Genie energy health technologies.
The Photon-Genius Energy Sauna represents the latest technology resulting from 50 years of research and development from the Skilling Institute and the historically recognized electronics genius of Ed Skilling. The Photon-Genius combines more body-friendly infrared technology than any other sauna in the world, and offers a dynamic total body conditioning effect at the cellular level and provides healing and rejuvenation from the inside out. The Photon-Genius "noticeably" improves quality of life issues of every body.
The Photon-Genius Energy Sauna is for anyone looking to improve his or her health. Athletes report significant improvement in athletic performance and all patients report improvement in "energy, appetite, and quality of sleep."
For further program details, please visit: http://www.edskilling.com/teslatech2011.html.
###