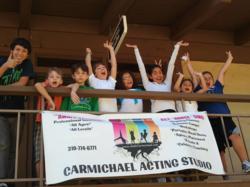 Fun filled days while building my child's confidence is everything a mom could hope for. Kim C.
Calabasas, CA (PRWEB) July 26, 2011
Carmichael Acting Studio was voted Best Kids Acting Program in the San Fernando Valley by local moms in a recent Survey Monkey Study. The poll was conducted through an online survey software called Survey Monkey. The purpose was to get the opinions of moms and their choice of summer camp, kids programs and kids enrichment classes. Out of a total of 10,000 surveys over a period of three months, twenty percent were opened and completed. Most moms reported that camps or kids programs with quality, reliability, trust, flexibility were high priority for kids classes. While price was a factor that was considered in the survey, moms voted that kids programs that enrich their kids while entertaining them was important.
CAS or Carmichael Acting Studio is located in Calabasas, California and shared with the ENSELE-Art Gallery. The kids enjoy looking at the art, building props for plays, receiving lessons for acting, dance, vocals and even painting. "Kids learn confidence, respect and an array of other skills in my class," says Award Winning Actor and Coach, Josh Carmichael. "It is my passion to work with kids and teach them all that I know in the entertainment business.
Business is picking up for the acting studio. After the summer camp program ends in August, Carmichael Acting Studio is offering ongoing workshops, such as "How to Find an Agent" and acting classes for after school for kids 8 to 12. For more about the best kids program in the valley, visit http://www.carmichaelactingstudio.com.
###