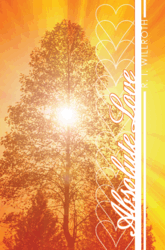 Ames, IA (PRWEB) July 26, 2011
In the search for truth and meaning, people turn to many things: to God, to religion, to belief or to reason. In his new book Absolute Love (published by WestBow Press), author R.I. Willroth offers his own interpretation of both secular text and Scripture to build a new version of truth and love.
Often we hear academics saying, "All truth is relative," especially secular academics. More frequently, of late, we hear evangelical Christian academics saying, "All truth is God's truth." At first, my reaction is to stand with the latter statement and reject the former. Yet, having contemplated the ramifications of each statement, I am more inclined to slightly change the first statement and reject the second out of hand. Instead, I think we should say, "Some truth is relative," and "Only absolute revealed truth is God's truth."
Much of Willroth's book is built around the idea of love. He has studied many texts and creeds, including the Koran and the writings of the pope; the New Testament and the Tanakh. He has drawn on the ideas of philosophers and doctors, psychiatrists and theologians – even scientists – to build his case for an absolute being of love and empowerment.
Thanks to the wide range of sources that Willroth has consulted, Absolute Love is not just a book for Christians. His intended audience is not bound by creed or faith; instead, he encourages anyone to question and explore their own beliefs, whatever those beliefs may be.
"This book will appeal to those who want to think deeper about the meaning of life," Willroth says. "Those people who want to know how to be happy and learn more about love and being loved."
About the Author
R.I. Willroth is a graduate of Northwestern College in Roseville, Minnesota, and Bethel Theological Seminary in Arden Hills, Minnesota. He is a partner at Marrs Wealth Management, LLC. Willroth lives in Ames, Iowa, with his wife and daughter. Besides helping people with their financial life and writing, Willroth enjoys playing golf.
WestBow Press is a strategic self-publishing alliance of Thomas Nelson, the world's premier Christian publisher, and Author Solutions, Inc. (ASI)—the world leader in the fastest-growing segment of publishing. Through this partnership, authors benefit from the rich publishing heritage of Thomas Nelson and the speed-to-market advantages of the ASI self-publishing model. Titles published through WestBow Press will be evaluated for sales potential and considered for publication under the Thomas Nelson imprint. For more information, or to start publishing today, visit westbowpress.com or call 866-928-1240.
###