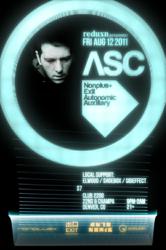 Denver, CO (PRWEB) July 25, 2011
Bass-oriented, ambient, electronic music will be the theme for all REDUXN artists including drum&bass and other forms. Artists will showcase the smooth and deep styles of bass-driven music.
James Clements (ASC), from San Diego, is the founding artist for Auxiliary Recordings, an experimental and ambient electronic music label which is getting wide positive reviews from various corners of the music world, and getting recent features on sites such as Resident Advisor. ASC is also one of the premiere artists on NonPlus+ Records, Autonomic Records, and Exit Records. He has produced electronic music for over 10 years and has contributed heavily to the evolution of Drum & Bass.
Widespread reviews have cited ASC's recent "Nothing Is Certain" album as one of the best electronic music long players for the year. The album was released on popular record label NonPlus+, to great critical acclaim.
ASC's recent review in Resident Advisor, said "he's a central player in what's become the most significant mutation in the (Electronic Music) Continuum since dubstep. It's mature club music of the highest calibre."
One recent article published by 130BPM, said ASC's full length EP is "some of the most beautiful and experimental music of the year. ASC doesn't push the envelope, he burns it — you can hear the flames burning steadily in these beats."
Background: Drum & Bass is a fast-tempo form of dance music which focuses on that bass line and drum rhythms. Some of the rhythmic nature of the music can be originally found in early jazz and classic forms of broken beat music. REDUXN is a local artist group in Denver who have recently started pushing the non-mainstream, minimal, and deeper sounds of electronic music. REDUXN is now hosting monthly events every second Friday and some special events occurring on holidays. The group is composed of local veteran DJ's Neil Sherwood (Elwood), Michael Ramirez (Shoebox), and Mike Flynn (Sideffect). The shows are also backed by record label Plush Recordings and drum and bass radio station, DnbRadio.com.
For More Information please email, Michael Flynn at
Mikeb.flynn(at)gmail(dot)com
REDUXN information and event listings can also be found on Facebook /REDUXN
###