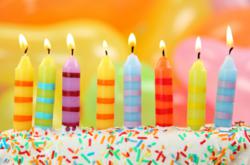 I appreciated the fact that Amy took personal information provided to her and created such a super birthday poem. The poem was a hit at my Mom's 50th. Thanks for helping making it such a special day, All the best, Catherine
Bristol, RI (PRWEB) July 26, 2011
For over ten years, Poemstogo.TV has been writing original poems, speeches and toasts for all kinds of occasions – and for people in all kinds of locations.
PoemsToGo's services are truly worldwide. And now, their output of birthday poems in particular has reached a brand new measure of distinction: A poem this week was sent to a a new Dad in Sri Lanka. That makes a total of thirty different countries where one-of-a-kind efforts from PoemsToGo have helped people to celebrate their special birthdays and other big occasions such an anniversaries and weddings, with a personalized, one-of-a-kind poem, toast or speech.
Amy Miller is founder and president of PoemsToGo.tv. She's proud of the way PoemsToGo helps people everywhere to bring out the joy and create special memories around life's most wonderful events – including retirements, sympathies and bar mitzvahs and much more. She's thrilled to have been able to touch so many people, worldwide.
"It's great to serve customers all over the globe," Amy said. "I get a special kick from it whenever we make a successful contact and build a brand new relationship in a new country." If that's the case, Amy gets a lot of kicks from PoemsToGo.tv's ongoing activity. The company has created original birthday poems for people everywhere, counting satisfied customers throughout all 50 of the United States of course and in locales as diverse as England, Canada, Israel, Egypt, Brazil, China, The Philippines, South Africa, France, India, Trinidad and many more.
Now, with this week's poem off to a new customer Sri Lanka, the total of nations served by PoemsToGo.tv has hit a lofty thirty.
What makes PoemsToGo.tv such a popular choice with customers worldwide? Amy Miller points to a commitment to providing highest quality and utter originality.
"We're different because every poem, speech or toast we write is truly one-of-a-kind," Amy says. "We write each one based upon specific information that we receive from the customer. It's all original in every sense of the word. There's nothing off the rack about our service."
At the heart of PoemsToGo.tv's original output is an exclusive questionnaire that customers fill out (usually within a matter of minutes) with a range of stories, background and rich details. Then they email it back to Amy. "I give the questionnaire to the staff writer who's best for that particular assignment, and then he or she uses it as a basis for a speech or toast that's created from scratch just for this very special occasion."
But back to geography for a minute, while Amy is joyous at adding number thirty to PoemsToGo's list of countries served, she is by no means satisfied. "Talk to me when we reach country number fifty," she said with a big smile. The way things are going, that probably won't take too much more time.
After a decade of great results at providing outstanding original poems, speeches and toasts for all kinds of occasions has only one goal in mind: To keep it going, to keep on serving new and existing customers alike, for many more years. PoemsToGo.tv is truly a marvelous service. On your next big event, try them! Call on Amy and see for yourself – PoemsToGo.tv makes any great occasion even greater.
For more information, please check out PoemsToGo. Call Amy Miller directly at 508-330-0028
###