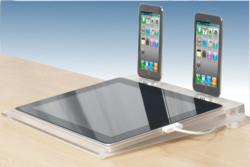 Bring the Apple Store look home
San Diego, California (PRWEB) July 25, 2011
newPCgadgets has announced the availability of the new Display Dock for the Ipad 2. Consumers can now dock their iPad 2 and iPhone/iPod just like the professionals at the Apple Store.
This is the first retail product to combine the iPad 2 and iPhone/iPod into one convenient and easy to use dockinh base. Perfect for home or business, the Display Dock meets the growing mobile needs of Apple users.
The new Display Dock is designed from high-quality clear acrylic and is similar to the look and feel of the Apple Store display. This elegant base provides the optimum viewing angle for the iPad 2 while also providing dual docks for the iPhone or iPod.
According to founder Michael Schriner, "We surveyed dozens of Southern California Apple Stores and discovered that customers were repeatedly asking to purchase the Apple iPad 2 display because they loved the look. It just made sense to produce a similar product for resale."
While similar in look, newPCgadgets has modified the design to make the Display Dock consumer friendly. This includes adding slots for headphones and charging cables, adding a finger slot for easy removal of the iPad 2, non-skid clear feet to prevent scratching and support brackets to enable use of the iPhone or iPod while in the dock.
Available in two models, the Display Dock is offered with dual ports and without. Each version has the same overall dimensions: 10"W x 9.25D x 1.25H and weighs 2 lbs. Cables are not included.
The iPad 2 Display Dock with dual ports is the ideal solution for combining multiple Apple devices into one docking base. The Display Dock without ports holds the iPad 2 only. This version is targeted towards retail, business displays or home use.
The Display Dock is custom milled and hand polished. Pricing ranges from $69.95 to $74.95 depending on model.
The new Display Dock will compliment any retail, home or office environment and showcase Apple's latest products.
# # #