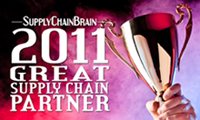 Our compliments to 4SIGHT on making the final cut of those 100 companies who received the most qualified nominations!
Paramus, NJ (PRWEB) July 25, 2011
4SIGHT Supply Chain Group, a leading Supply Chain consulting and systems integration firm, announced today they have been recognized by SupplyChainBrain's annual listing of "100 Great Supply Chain Partners", a distinction awarded to the industry's leading supply chain firms.
"SupplyChainBrain's 9th annual list of 100 Great Supply Chain Partners is the result of a six-month on-line poll in which supply chain professionals were asked to nominate vendors and service providers whose solutions have made a significant impact on their company's efficiency, customer service and overall supply chain performance," said Brad Berger, President & Publisher of SupplyChainBrain.
"Nominations were received for hundreds of trading partners in every aspect of supply chain management. The 2011 July/August issue of SupplyChainBrain magazine includes the select list of companies who have so impressed our readers that they deserve to be singled out and to be held up as examples for others in the industry. Our compliments to 4SIGHT on making the final cut of those 100 companies who received the most qualified nominations!," said Brad Berger.
"This award is a very special recognition for our company because it comes directly from nominations submitted by our clients and partners. It's a testament to all the work our team does day-in and day-out for 4SIGHT clients. Our group knows that customer service and driving value are the #1 guiding metrics in our organization and this achievement is recognition from our customers that we're meeting and exceeding those expectations and they recognize us as a valued partner. I couldn't be more proud of my team," says Frank Camean, President and CEO, 4SIGHT.
4SIGHT will also be featured with a very small group of companies who will have "Spotlights" in the July/August issue. The spotlight includes multiple anonymous quotes from different customers on how 4SIGHT is making a difference. "Without the recognition of our customers, none of this would be possible, so I'd like to thank all of our clients and partners who nominated us for this achievement", says Camean.
This is 4SIGHT's third industry award in 2011. They were recognized in February as a "2011 Pro to Know" and were recognized in May as a "Top 100 Great Supply Chain Projects."
About SupplyChainBrain – http://www.supplychainbrain.com
SupplyChainBrain, the world's most comprehensive supply chain management information resource, is accessed year round through a wide range of ever evolving multi-media formats by hundreds of thousands of senior level industry executives. In addition to addressing the fundamental principles of supply-chain management, SupplyChainBrain identifies emerging trends, technologies and best practices, forward thinking ideas and cutting-edge solutions-and continues to write and report about these as they evolve and mature.
About 4SIGHT Supply Chain Group:
4SIGHT is a full-service supply chain consulting and systems integration firm with professionals who average 14+ years experience throughout a diverse range of industry channels. Businesses come to 4SIGHT for their knowledge of the supply chain industry at large and because they have a proven track record of helping their customers capitalize on improving efficiencies and increasing profits without sacrificing customer service levels. They have worked with more than 40+ supply chain software applications (WMS, TMS, OMS, LMS, YMS), are a certified Vocollect Voice Systems Integrator, and specialize in Business Case Development, Facility Layout & Design, Logistics Network Optimizations, Transportation Assessment, Engineered Labor Standards, Software Selections and more.
# # #