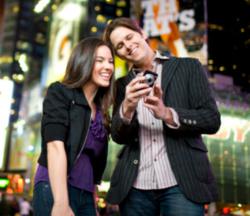 When you're in a hurry, QuickClick is the way to go.
Redwood City, CA (PRWEB) July 29, 2011
Imagine being in a hurry between meetings and needing to find a nearby restaurant for a fast lunch. The QuickClick Restaurants app can locate and map places to go with one button tap. Or realizing that you're out of cash. A single click of the ATM app shows the nearest locations.
In developing software for the QuickClick Locale series, Marketimpacts.com took an approach different from other developers. "Many apps try to be too many things to too many people" said Don Cowan, the lead QuickClick apps developer and Director of Software Engineering at Marketimpacts.com. "As a result, it can take valuable time to scan through a sequence of app screens to find what you're looking for. We made speed and ease of use the top priority in our design."
Marketimpacts.com developed individual QuickClick apps for finding places such as ATMs, coffee, fast food, gas stations, golf courses, health food, lodging, nightlife, parking, restaurants, shopping, and taxis.
All the information needed from the user is entered on a single screen. That screen was designed and tested to deliver a high level of efficiency. Developers put the apps through a battery of tests for ergonomic, technical and usability factors.
"It's amazing how complex and challenging the design of a small smartphone app screen can really be" said Cowan. "You have to take into account the reach of thumbs, the size of fingertips, the size and readability of text, the time to enter information, colors, field placement and many other factors. There's an art to writing software for small screens."
"We did extensive testing with focus groups and learned a lot about how people actually use their devices and what works and doesn't work for most people. As a result, we've had extremely positive feedback from our early users."
In their first few weeks of availability, the QuickClick apps have been downloaded in over 50 countries, according to statistics from the Android Developers website.
QuickClick apps are fully integrated into the functionality of the smartphone or tablet. For example, the device's Contacts app has access to information found by QuickClick. This is often not the case with other apps. Many apps build their own "walled off city," making information exchange both difficult and complex. As a result, QuickClick apps fully exploit mapping capabilities such as directions, navigation, satellite views, traffic conditions, street views, reviews, and ratings.
The QuickClick apps are available for download on the Android Market and more information can be found on the QuickClick Apps web page. To find the apps from a smartphone or tablet, search the Android Market for "QuickClick Apps".
The Marketimpacts.com team develops software for smartphones, tablets and PCs.
Marketimpacts, QuickClick and Locale are trademarks of Arelinda Technology Group, Inc.
###