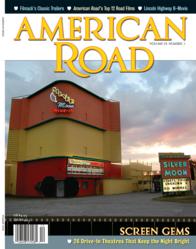 Detroit, Mich. (PRWEB) July 26, 2011
With the Summer 2011 issue on national newsstands, American Road® magazine honors the drive-in theatre's unparalleled pull on nostalgia's strings. It begins by unveiling "American Road's Top 12 Road Films." Months ago, members of the American Road® staff received ballots listing sixty famous road movies. They rated each film with regard to classic status, cinematic contributions, and personal appeal. Their designated dozen presents cinematic milestones that have defined the genre over the past one hundred years.
American Road® pays homage to drive-ins proper with an extensive ensemble piece: "A Night at the Drive-In" visits twenty-six outdoor movie oases that keep nights bright across North America. "Intermission Time, Folks!" unwinds with Robbie Mack, keeper of time-honored intermission trailers. He heads Filmack Studios, the company that has graced screens with dancing hotdogs, hungry dwarves, and other shining wonders since 1919. Editor Robert Klara closes the show with "B-Movie, Be Mine: Saltair and Carnival of Souls"—the story of horror director Herk Harvey, a Utah amusement park, and the making of a cult classic off the Lincoln Highway.
American Road® recently unveiled a new digital edition, a new app for the iPad (through iTunes), a new mobile site (optimized for iPhones, Androids, and other Smartphone devices), and an improved website that enables better navigation and provides tools for the visitor to find that roadside attraction, locate that vintage motel, discover that hidden landmark, and make new memories on the road less traveled. Readers will find sponsored downloadable trip itineraries that make travel planning a breeze, as well as the American Road® Forums—the ultimate road trip community.
American Road® is an award-winning periodical published quarterly by Mock Turtle Press, distributed internationally by Disticor, and now available at newsstands and fine bookstores.
Preview the Summer 2011 digital edition and vote for your favorite road movies.
# # #