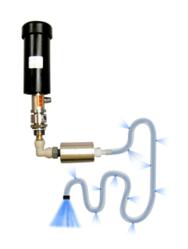 Reduces noise levels to about 64 dBA or less and installs quickly and easily!
(PRWEB) July 25, 2011
Introducing our New Silent X-Stream ™ Frigid –X™ Panel Coolers by Nex Flow™ Air Products provide a simple and inexpensive solution to heat related problems in Industrial Control Enclosures and addresses the increasing concern about noise levels in the work environment.
Available in; NEMA 12 ( IP 52 ) , NEMA 3R ( IP 14 ) , and patent pending NEMA 4/4X ( IP56 ) ratings. All ratings are Underwriters Laboratories Listed ( ULC) and CE to meet US, Canadian Standards and International Standards.
Vortex Tube technology creates extremely cold air from a small amount of ordinary compressed air which is used to cool the enclosure . The panel is cooled and purged with clean air at 10o F, and low Relative Humidity, Low noise levels (to about 64 dBA or less) , no moving parts, mounts in minutes. Available with Thermostat Control which is recommended for most normal conditions. Ideal for dirty environments and high ambient conditions and when personnel must work in close proximity of the air conditioned panels..
Nex-Flow™provides the best value ALWAYS. ALL models are constructed of 303/304 Stainless Steel, with the widest selection of NEMA ratings in the industry with superior construction and superior performance - all in stock. 316L Stainless Steel versions also available for pharmaceutical and extremely corrosive environments.
This summer's the time to address that problem enclosure. We invite you to visit our web site at http://www.nexflowair.com or http://www.nex-flow.com for full product details and prices. Sizing help is just a E-mail away at sales(at)nex-flow(dot)com or by calling Toll Free 1-877-797-2777
NEX FLOW™AIR PRODUCTS CORP.
###