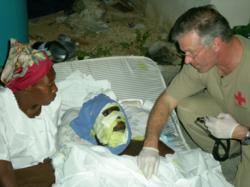 "It is so gratifying to see patients dramatically improved because of our monthly presence in Haiti." David Vanderpool, MD
Brentwood, TN (PRWEB) July 26, 2011
Mobile Medical Disaster Relief, http://www.mmdr.org, a Brentwood, TN based disaster relief organization returns to cholera ravaged Haiti with a team of twenty medical doctors, dentists and nurses for the eighteenth time since the January 2010 earthquake. After helping to establish a large trauma hospital two days after the earthquake, Dr. David Vanderpool, CEO of Mobile Medical Disaster Relief, committed to help provide medical care to Haiti's most destitute every month for as long as possible. "Initially, we established a permanent presence in a suburb of Port au Prince and since then have returned monthly with medical teams to provide free health care to the poorest of the poor," he said.
Twenty medical doctors, dentists and nurses arrived in Port au Prince, Haiti and began work in Mobile Medical Disaster Relief's clinic. They saw some 800 patients with diseases which ranged from cholera and malaria to thyroid goiter and cancer. Dr. Vanderpool reports, "some of the patients we just can't help because of our limited resources, but most receive the best care possible and are thriving because of it. It is so gratifying to see the same patients dramatically improved because of our monthly presence in Haiti."
Morris Reed, Chairman of the Board of Mobile Medical Disaster Relief says, "We plan to return in two weeks to continue our efforts to fight the cholera outbreak as well as continue community development projects such as building widows' houses and working with orphans."
Mobile Medical Disaster Relief, a 501 (C3) organization, is supported by the profits from Dr. Vanderpool's medical practice, LAVE MD, http://www.lavemd.com. Mobile Medical Disaster Relief provides medical and logistical disaster relief in fourteen developing countries worldwide.
###