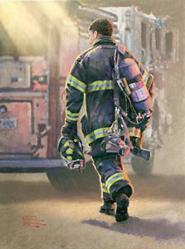 Honoring the brave community of first responders.
San Francisco, CA (PRWEB) July 26, 2011
World Wide Art, Inc., an online art gallery and custom framing company that specializes in limited editions by today's top artists, has announced that Thomas Kinkade's latest piece is available on its website.
The painting, called Selfless Service, was created as a tribute to the courageous firefighters and other first responders not only on 9-11, but in their everyday heroics. Known as the "painter of light," Kinkade is the most collected living painter in America.
"We are honored and humbled to offer this beautiful Kinkade piece to the public on our website," said David Wilfong, spokesperson for World Wide Art. "This painting powerfully expresses the selfless service of our nation's law enforcement community, firemen and first responders as a whole."
The painting features a fire truck and fully uniformed firefighter, who carries his helmet amidst the smoke and shadows of a tragic event. The colors are vibrant and rich, and its overall display conveys a duty of devoted service for the common good.
The most captivating effect of Selfless Service, however, is the sense of a profound, altruistic image of the firefighter's face and the sooty background in which he works. It reflects both his courage and that of all who selflessly serve to help others in times of great need.
The painting is particularly appropriate for the San Francisco-based World-Wide-Art.com, as the city recently lost two veteran firefighters at a blaze in the Diamond Heights district. "With the recent tragic loss of two courageous firefighters in our city, Kinkade's painting dedicated to these heroes could not be timelier," said Wilfong. "Honoring the brave community of first responders through expressions of art, like Kinkade's Selfless Service, is near and dear to what we feel is important at our company."
Kinkade, a devout Christian, highlights inspirational messages and simple pleasures through his paintings, using his talent as a vehicle to communicate and spread inherent life-affirming values. In addition to this latest painting, World-Wide-Art.com also offers many other Kinkade collections and newly released paintings.
To learn more, visit http://www.world-wide-art.com.
###