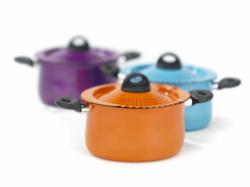 Rancho Cucamonga, CA (PRWEB) July 25, 2011
Bialetti—Italy's leading coffeemaker and cookware brand—invites you to pour into the last weeks of summer with its "Color Splash Sweepstakes," where participants enter for a chance to win a $500 Bialetti shopping spree at Bialettishop.com. To enter, visit the Bialetti USA Facebook Fanpage (http://www.facebook.com/bialettiusa) and click on the "Color Splash Sweepstakes" application. The sweepstakes begins today, Monday, July 25 at 12:01 a.m. and ends Monday, August 8 at midnight, EST.
The Grand Prize Winner can revamp his/her kitchen cookware with $500-worth of innovative and stylish Italian cookware and stovetop coffee makers. Some of Bialetti's leading products include the eco friendly Aeternum nano-ceramic nonstick cookware line; the iconic Moka Express—the original stovetop espresso maker—and its family of espresso and cappuccino products, such as the Brikka, Mukka Express, or the plug-in Easy Café Electric; and new to the Bialetti line up colorful Trends sauté pans and Pasta Pots.
In addition to the grand-prize, 50 randomly selected winners will receive a Bialetti Pasta Pot, with a retail value of $34.95. The patented 5-quart Pasta Pots feature a unique oval-shape allowing home chefs to cook long pastas, including lasagna, without breaking. They also feature an innovative lock-on lid with built-in strainer, eliminating the need for a colander—a 2-in-1 solution ideal for kitchens with limited space. Available in Purple Passion, Blue Cheer and Orange Spice on bialettishop.com and specialty and gourmet stores nationwide.
For more information on Bialetti USA, including official sweepstakes rules and privacy policy, please visit our Facebook page: http://www.facebook.com/bialettiusa.
About Bialetti:
Bialetti is an Italian brand of stove-top coffee makers and cookware products that's bringing a unique combination of current yet accessible Italian design and quality at every price point. Headquarted in Coccaglio, Italy, Bialetti puts a face on the modern Italian's unique approach to life, with a passion for all things good – style & design, food, friends, family and relaxation. Founded in 1933, Bialetti first came to market in Europe as the creator of the "Moka Express." Today, the company offers an Italian-inspired line of cookware, kitchen tools and gadgets, as well as its wide-range of stove-top coffee makers.
Bradshaw International, based in Rancho Cucamonga, Calif., is a leading marketer of kitchenware products and is the distributor for Bialetti USA. For more information on Bialetti USA, please visit our Facebook page: http://www.facebook.com/bialettiusa.
# # #