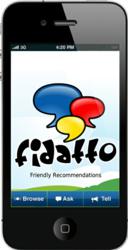 The idea of Fidatto is to leverage the power and knowledge of Facebook friends to help with everyday needs.
Boulder, CO (PRWEB) July 25, 2011
Recommending your favorite local services while giving back to local charities just became possible. Fidatto is a Facebook app, that has just launched a free mobile app for iPhone, iPad and iPod touch; now available for free download via Apple iTunes from the App Store. Fidatto lets users recommend the best automotive, beauty, home, entertainment, professional and wellness services to friends on Facebook while earning philanthropic award points.
Different from review sites, Fidatto is a recommendation app built for Facebook friends to help uncover the best local services a town or city has to offer. Covering dozens of categories from architects to veterinarians, Fidatto —the name is based on the Italian phrase for trust -- makes it easy to 'ask' and 'tell' your friends about great local services as well as 'browse' recommendations in dozens of categories. Fidatto notifies Facebook friends within the news stream when new recommendations are made or when a friend is asking for help. By tapping a trusted network of friends, Fidatto ensures all suggestions are genuine and friendly by only including constructive recommendations.
Fidatto also incorporates a gaming feature into the app making it both fun and philanthropic. Fidatto gives a $5 donation to a local charity for every five (5) recommendations by a single user. Currently, charities are chosen by a vote among top Fidatto users. Future iterations of the app will allow users to earn points and accrue badges for every recommendation. Power users who frequently use the app can ultimately earn the "Fidatto Filanthropist" badge giving them a direct role in choosing the nonprofit.
"The idea of Fidatto is to leverage the power and knowledge of Facebook friends to help with everyday needs," said Fiona Schlachter, Founder and CEO of Swirly Dots Limited, the company behind Fidatto. "Fidatto is focused on all the good stuff - helping friends, helping small businesses and helping charities."
About Fidatto
Fidatto is a free Facebook app that allows users to share and request local business recommendations from their trusted network of friends. No more searching through hundreds of online recommendations, paying subscriptions to exclusive groups, or wondering whether a recommendation is real or not. Fidatto makes it simple and easy to ask your friends about the best local services - doctors, mechanics, plumbers, hair stylists and more. Founded in June 2010 by Fiona Schlachter, Fidatto is privately funded and based in Boulder, Colo. Start using Fidatto for free today by adding it to your Facebook Apps or downloading the free iOS app for iPhone, iPad, and iPod touch from the App Store.
###