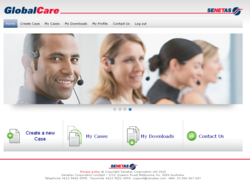 While Senetas encryption hardware has demonstrated unsurpassed reliability in labs and in the field over many years, customers want the ability to upgrade support to protect their investment in application services and information security. John DuBois
Melbourne, Australia (PRWEB) July 26, 2011
Senetas Corporation Limited (ASX:SEN), Australia's world-leading data protection company, today announced the release of Senetas GlobalCare, an enhanced customer support program now being rolled out globally.
Senetas CEO, John DuBois said GlobalCare now offers registered customers of the company's two divisions, Security Products and Consulting Solutions, access to experienced support professionals during business hours and up to 24 hours, 7 days a week, 365 days a year.
He said GlobalCare was available to registered customers whether they were direct customers of Senetas Corporation in Australia, Senetas Europe, or whether application services or encryption technology was purchased through the Senetas international channel partner network, which currently covers more than 35 countries.
In line with its international market development, Senetas has upgraded its support offering, developing a dedicated Service Portal for customers to log service requests at anytime online. The portal also provides real-time monitoring of the status of service requests, and provides access to information including Whitepapers and Datasheets plus details of the latest updates.
Senetas GlobalCare facilitates rapid response and resolution. Every service response is driven by service level agreements (SLAs) and employs proven support procedures and defined escalation processes to expedite resolution.
For international customers, Senetas ensures that experienced global engineering and application services capability is available from Senetas offices. On-site services can also be employed if required.
Senetas has developed and deployed its own SaaS Incident Response Logging System, which provides specific alerts. In addition, the Senetas Secure Remote Performance Monitoring system, MonitorStream, is available to provide an additional level of systems assurance.
SENETAS GLOBALCARE – PRODUCT ASSURANCE
Senetas Corporation employs quality assurance design and manufacturing processes at its Australian encryption hardware production facility to ensure maximum Mean-Time-Between-Failure (MTBF). In the event that a hardware or software problem should arise, Senetas GlobalCare deploys the latest Diagnostic Tools to quickly assess and remediate most issues. If a problem cannot be resolved online and a replacement encryptor is required, Senetas GlobalCare ensures the appropriate level of spare parts including standby encryptors are available.
SENETAS GLOBALCARE - TRAINING:
Senetas provides comprehensive training programs for customers and partners. Its Training division is highly regarded for its range of enterprise software and application training programs delivered on demand around Australia. Under the GlobalCare initiative, training in the initial installation and deployment of security products has been enhanced with the development of a Partner Training Kit for members of the Senetas Channel Partner program to further support their customers.
SENETAS GLOBALCARE provides three tiers of customer support (Standard, Premium and Premium Plus) offering support during business hours, with 24x7x365 availability for Premium support customer.
Mr DuBois said: "While Senetas encryption hardware has demonstrated unsurpassed reliability in the labs and in the field over many years, customers want the ability to upgrade support to protect their investment in application services and information security."
About Senetas Corporation
Senetas Corporation Limited (ASX Code: SEN) is an Australian ASX-listed public company and is the world's leading developer and supplier of high speed network encryption hardware products. Senetas encryption hardware is accredited to international government security standards (FIPS 140-2 Level 3 and Common Criteria EAL4+) and is now 'in evaluation' for CESG CAPS approval in United Kingdom.
Accreditation of a product to these levels ensures trust in the design, operation and reliability of the tested solution as measured against international criteria and tested by licensed laboratories.
The long-established Senetas Consulting division provides specialist information technology application services focused on business intelligence, data warehousing and data mining, infrastructure management and storage management, access and identity management, role based access control, plus network systems monitoring, business performance and financial management consulting services.
Senetas Europe Limited based near London, UK, manages the European reseller network. Senetas products are now sold by channel partners in more than 35 countries.
Senetas customers include government, military, law enforcement and regulatory agencies, as well as leading financial institutions in Australia, USA, Middle East, Asia, and Europe.
###