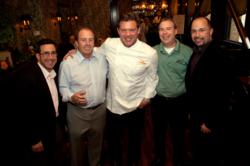 San Francisco, CA (PRWEB) July 25, 2011
American Support, powered by CSG Systems, along with Evolution Digital hosted a VIP reception for the board members and staffs of the National Cable Television Cooperative (NCTC) and the American Cable Association (ACA) at Chef Tyler Florence's Wayfare Tavern before the start of the 2011 NCTC Independent Show.
Attendees enjoyed authentic American dishes inspired by local cuisine at the turn of the 20th Century and prepared by Chef Florence, renowned restaurateur and star of Food Network's hit television series "Tyler's Ultimate".
"The NCTC and ACA each play key roles in the telecommunications industry," said Matt Zemon, president & CEO of American Support. "Through their work they are providing American jobs while connecting their customers to excellent education, communication and entertainment opportunities. This was an opportunity for us to say thank you."
NCTC board members in attendance included NCTC President and CEO Rich Fickle, board chairman Edward Holleran with Atlantic Broadband, Peter Smith with Wide Open West, William Beaty with Comporium Communications, Mac Budill with Cablevision Systems Corporation, Larry Eby with NewWave Communications, John Higginbotham with Frankfort Plant Board, Chris Hilliard with USA Communications, Patty McCaskill with Suddenlink Communications, Bob Ormberg with GCI Inc., Jeffrey Ross with Armstrong Cable Services, Wayne Schattenkerk with WaveDivision Holdings, and Gary Shorman with Eagle Communications.
ACA board members in attendance included Doug Fuller with NPG Cable, Steve Lowe with Ultra Communications, LeaAnn Quist with Great Plains Cable, and Pat Thompson with Pat Thompson Co.
"The Evolution team always is excited about supporting and showing our enthusiasm for the teams at NCTC and ACA," said Marc Cohen, Evolution Digital's executive vice president for sales. "It is due to their hard work and dedication that this segment of the industry is able to grow and thrive. Co-hosting this event is only a small token of appreciation."
As an added treat, the Music Maker Relief Organization provided American blues artist and Grammy nominee Lady Bianca to entertain. "Lady Bianca is known for playing real music about real people," said Zemon. "At this time in our country's history, it is important to remember the real people we are supporting with our businesses."
American Support is proud to support the Music Maker Relief Foundation, which works to help American roots musician pioneers and forgotten heroes gain recognition and meet their day-to-day needs. More information on the Music Maker Relief Foundation can be found here: http://www.musicmaker.org/
About American Support
American Support is the nation's only complete provider of back-office services to the cable industry. Through its five divisions: American Subscriber Management, American Customer Support, American Technical Support, American Field Support and the recently acquired Evergreen Sales & Marketing; the company provides billing services, technical and customer support, provisioning and monitoring, field support, dispatch and inbound and outbound telesales to more than 400 cable franchises.
American Support strives to help video, voice and data companies succeed by operating efficiently, consistently and with excellent customer service, making life better for its clients, employees, investors and families, while supporting its country. http://www.americansupport.com
About Evolution Digital
Evolution Digital, LLC has rapidly entered the cable television equipment industry by challenging the status quo and developing creative and cost effective solutions that enable cable operators to convert their systems to an all-digital video platform. This Denver, Color.-based company delivers a complete digital turnkey solution to enable cable operators to economically deploy advanced digital cable services by improving the utilization of existing cable plant through recapturing bandwidth, thus increasing their competitive viability.
###