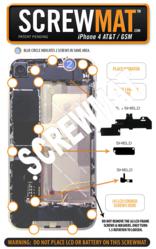 The Screwmat is an innovative product that takes the guesswork out of reassembly
Tulsa, OK (PRWEB) July 26, 2011
ScrewMat is proud to announce a new distribution partner for the ScrewMat iPhone and iTouch series of illustrated magnetic repair mats.
"The Screwmat is an innovative product that takes the guesswork out of reassembly. It's so simple and clever, a great addition to any phone tech's toolbox." said Eric Essen, Tool Guru at iFixit.com.
Alex Iser, the founder and inventor of the patent pending ScrewMat illustrated magnetic replacement guide said, "We are extremely happy to welcome iFixit to our growing line of distribution partners and look forward to providing a great product for the Do-It-Yourself community."
ScrewMats are available at iFixit for all iPhone models. ScrewMats provide an easy to follow reference guide while magnetically holding screws and small parts during the dis-assembly and assembly.
"ScrewMat is perfect for the Do-It-Yourself repair enthusiast, as it provides a simple and straight forward way to keep track of all of tiny screws and parts that often become elusive during the repair process," said Iser.
Tool and Part supply stores are encouraged to apply to become an official ScrewMat distributor by completing an application at: http://screwmat.com/distributors
To find out more about ScrewMat, please visit: http://SCREWMAT.com
About ScrewMat:
SCREWMAT was founded in 2010 to help cell phone repair professionals and do-it-yourself amateurs efficiently and easily repair and replace parts within cellular phone, smart phone, and hand held devices.
About iFixit
iFixit was started in 2003 in a dorm room at Cal Poly. Since then, iFixit has become a growing community and parts store dedicated to the repair and restoration of consumer phone and computer devices.
###