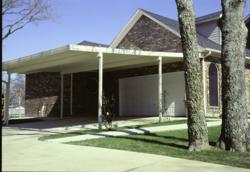 We've worked hard to develop the highest quality product possible so that our customers can rest easy at night knowing their vehicles are protected from whatever nature can throw at them
San Diego, CA (PRWEB) July 26, 2011
Southern Californians love their cars (it stems from having to sit in them so long during rush hour). To help protect these cherished vehicles, Sierra Window Concepts (SWC), a window, patio door and patio cover company serving the Southern California market, announced today that it is now manufacturing and selling a line of durable, aluminum carports.
SWC's carports shield vehicles from inclement weather as well as from the damaging UV rays of the sun. The enhanced strength and durability of these structures are made possible by their unique design. Every SWC carport is constructed by fusing together three distinct layers of aluminum. A deep driftwood embossing gives the carport a look of painted wood without all the upkeep required by real wood.
"We are really proud to be able to offer our line of carports to Southern California residents," said John Shadrach, CEO of Sierra Window Concepts. "We've worked hard to develop the highest quality product possible so that our customers can rest easy at night knowing their vehicles are protected from whatever nature can throw at them."
Carports offer homeowners many benefits. They can provide vehicles roughly the same protection as a garage at a much lower cost, and may even increase the home's value when the time comes to sell. Additionally, SWC can build a carport to fit any sized vehicle, even those that would not traditionally fit inside a garage such as an RV, camper or a boat.
SWC offers customers several different carport designs so as to accommodate almost any need and budget.
Along with its new line of aluminum carports, SWC also sells and installs energy efficient windows, patio doors, and patio covers in the Southern California region. For more information, visit the company's corporate website at http://www.swcwindows.com.
Since 1992, Sierra Window Conceptshas been providing energy efficient windows, patio doors and patio covers to residents in San Diego, Riverside, Los Angeles, Orange County and San Bernardino County. The company's mission is to be a leader in high quality energy efficient products and in outstanding customer service.
###