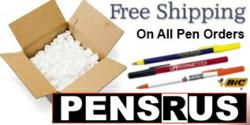 New York, NY (PRWEB) July 25, 2011
August is recognized as National Immunization Awareness Month, which is why PENSRUS, a leading distributor of customized giveaways, promotional products, and http://store.pensrus.com/Merchant2/merchant.mvc?Screen=CTGY&Category_Code=SENATOR&?s=prweb [personalized business pens __title__ personalized business pens], is observing the month by having a special on the AntiBac Pen exclusively from Senator. August is the ideal time to remind friends, families, and co-workers to catch up on their vaccinations as students get ready to enter college, parents are enrolling their children in school, and people in the healthcare profession are preparing for the upcoming flu season.
The main priority of National Immunization Month is to increase awareness about immunization across all age groups. One way PENSRUS is showing their support for immunizations and increasing awareness about their benefits, is by having a special on the custom http://store.pensrus.com/Merchant2/merchant.mvc?Screen=PROD&Product_Code=PRU-SENATOR-2645&Category_Code=SENATOR&?s=prweb [AntiBac Pen __title__ AntiBac Pen] from Senator. Just as staying up to date on immunizations is important, so is ensuring one's health by using antibacterial products. The AntiBac does just this, as antibacterial additive is molded directly into the body of the pen. Each time a pen is borrowed, picked up, or used, the AntiBac will help prevent the growth and spread of bacteria.
Immunization is one of the most significant public health achievements of the 20th century, and the same can be said for the AntiBac pen. Effective against viruses, fungi, and bacteria such as MRSA, Ecoli, Salmonella, and Staph, this http://store.pensrus.com/Merchant2/merchant.mvc?Screen=PROD&Product_Code=PRU-RS&Category_Code=BIC&?s=prweb [marketing pen __title__ marketing pen] is one of a kind, promotes National Immunization Awareness Month, and is also an excellent promotional product for increasing one's brand awareness.
"Keeping individuals healthier through immunizations results in lower financial costs for families, including time lost from school and work, as well as the expense of medical bills," comments PENSRUS CEO Henry Morgan. "The AntiBac not only promotes a healthy lifestyle, but comes at an affordable cost so that everyone can be protected at all times."
This custom antibacterial pen is priced as low as $0.69 a unit, and is eligible for free ground shipping as well as no imprint fee and no setup fee. The antibacterial protection lasts the lifetime of the pen, and like all Senator custom logo pens, writes for 1.2 miles. The AntiBac is an excellent advertising pen for those who want to increase branding and immunization awareness, while keeping advertising and marketing costs low.
For more information on the AntiBac pen, and to see a full listing of all marketing pens and other tradeshow giveaways please visit PENSRUS.com.
About PENSRUS
PENSRUS had been offering top quality promotional, personalized, imprinted, and engraved advertising products for over 50 years while maintaining a consistently high level of customer service. PENSRUS has earned an A+ rating from the Better Business Bureau and prides itself on helping thousands of companies nationwide increase customer loyalty and extend brand reach with their quality products and customer service.
Contact:
PENSRUS
PENSRUS.com
800 736-7787
###