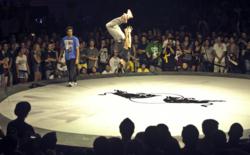 Chicago, IL (PRWEB) July 25, 2011
Last night, the nation's top 16 b-boys came together at Chicago's historic Aragon Ballroom for a throw down that sent shockwaves across the sold-out crowd of more than 2,000. Four rounds of intense, 1-on-1 dance battles left one competitor, Boston's El Niño, with the coveted national championship title and the honor of representing the United States during the Red Bull BC One Finals in Moscow this November.
"Honestly, winning the Red Bull BC One US qualifier means the world to me. I've been breaking for over 16 years and I feel like it's starting to pay me back," stated El Niño. "I feel awesome, I feel ecstatic. I really can't believe it right now. It took all of my energy, all of my drive. It took every little piece of me to win this."
He ended by sharing his personal motivation, "Love the life you live and live the life you love. That's what motivates me."
The road to victory was an increasingly heated one for El Niño, whose originality, and aggressive dance moves brought him out on top of the competition in each of the four battles that he faced. He unanimously won both the first round against Kid Glyde and the quarterfinals against ATN. With each round more explosive than the last, his match-up with Toys aRe Us in the semifinals further captivated the crowd while the judges weighed in with 3.5 votes for El Niño and 1.5 for Toyz aRe Us. El Niño's endurance helped propel him to another unanimous victory in the final round against Vicious Victor from Orlando, Fla.
A panel of five judges, including 2007 BC One Champion b-boy Ronnie, Chicago b-boy legend Wicked, and b-boys Moy, Lego and Roxrite weighed-in at every round to determine which dancer dominated in technique, attitude, creativity and style.
Red Bull BC One has earned the reputation of being one of the most prestigious 1-on-1 b-boy battles in the world, giving dancers a global platform to showcase their individual talents. The 16 elite b-boys who shared the stage with El Niño last night included: ATN (Las Vegas), Evol (Chicago), Frankie (NYC), Gravity (NYC), Kareem (LA), Keebz (Orlando), Kid Glyde (NYC), Mijo (Milwaukee), MN Joe (Minneapolis), Morris (Sacramento), Nasty Ray (San Jose), Palmer (Houston), Puzzles (Toronto), Toyz aRe Us (D.C.), and Vicious Victor (Orlando).
When El Niño makes the journey to Russia this fall, he will compete against some of the most elite dancers in the world including national champions from Brazil, Taiwan, Turkey and Spain.
ABOUT RED BULL BC ONE
Going back to the 1970s, b-boy competitions centered around 1-on-1 battles. In the last 15 years, however, crew competitions have become more popular. Red Bull BC One takes breaking back to its roots by keeping the focus on 1-on-1 contests.
Since its inception in 2004, Red Bull BC One has become a world renown b-boy competition. Up to now, the competition has been centred on hand-selected dancers. This year, Red Bull BC One is dedicated to bringing fresh blood into the competition. By hosting cyphers (pre-qualifier battles) around the world, previously unknown dancers have been given a chance to win the most prestigious global 1-on-1 battle. Winners from the cyphers have advanced to compete against hand-selected dancers in one of this year's five Red Bull BC One National Qualifiers held in Brazil, Taiwan, Turkey, Spain and the United States, here in Chicago. Each Qualifier will send one winner to the World Finals in November.
MEDIA INFORMATION
Photos: http://bit.ly/qorbub
Battle Videos: http://youtu.be/20IoSqn_KaY
B-Roll: https://www.redbullcontentpool.com/stock/showVideoOffer.action?offerID=1311554580698-823258956
Information: http://www.redbullbcone.com.
Mobile App: The Red Bull BC One Application for iPhones, iPod Touch and iPad: http://win.gs/bconegame
Social: Twitter @redbullbcone @redbullCHI #RBBC1 http://www.facebook.com/redbullBCone http://www.facebook.com/redbull
Through the Red Bull network, hi-res video and still images are captured and made immediately available for editorial use for all media channels including television, film, print, mobile, and digital. The content is centrally located in the Red Bull Content Pool for media partners at http://www.redbullcontentpool.com
###