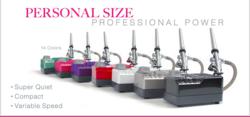 "Now everyone can have the airbrushed look of the stars!" says Dina Ousley.
Los Angeles, CA (PRWEB) July 26, 2011
Dinair Airbrush Makeup announced today the premiere of "The Dinair Airbrush Makeup Limited Edition ShopNBC Kit" on ShopNBC during the network's Fall Beauty Day Event on July 27. ShopNBC's Fall Beauty Day will feature new items, new product premieres, customer favorites and the latest in fall beauty must-haves.
Dinair Airbrush Makeup has been the secret weapon of celebrity makeup artists for thirty years and is now a favorite among consumers around the globe. This easy to use system combines the latest technology in airbrush makeup and a sleek and portable design that gives users a flawless, natural and beautiful application every time.
Joining ShopNBC on July 27 will be founder and president of Dinair, Dina Ousley and international instructor, makeup artist, and spokesperson for Dinair, Julie Tobias. Julie has been working side by side with Dina for over ten years and has traveled the world teaching hands on workshops to professionals and consumers. "Now everyone can have the airbrushed look of the stars," says Dina Ousley.
Dinair Airbrush Makeup will be featuring their Limited Edition ShopNBC Kit, including everything needed to get started with airbrush makeup at an incredible savings to the consumer. This Special Limited Edition Kit is not sold anywhere else and includes four foundation shades in your color range, three stunning shades for blush, lips, eye shadow, eyeliner, and eyebrows, your beauty airbrush, a Dinair compressor, and Moist and Dewy moisturizer.
Some of Dinair's top products include:
Moist and Dewy - An amazing, and all natural moisturizer perfect for those stubborn dry areas, fine lines, or even just to create a subtle satin finish. Also a great finishing touch for airbrushed lips.
Pure and Simple Cleansing Lotion - The ultimate two in one facial cleanser and makeup remover that cleans deep down to remove dirt and excess oil from pores, but is gentle enough for even the most sensitive skin. This product is paraben and fragrance free and is perfect for everyday use.
Concealer - Dinair's first ever manual concealer is ideal for hiding under eye circles, and concealing any imperfections. The smooth and creamy formula hides fine lines and is great to use with any Dinair foundation.
About Dinair Airbrush Makeup
Dinair Airbrush Makeup was created thirty years ago by celebrity makeup artist and Emmy Award Winner Dina Ousley. Dinair's innovative technique for makeup application revolutionized the makeup industry and has been a favorite among professional makeup artists around the world and now a must-have for consumers. With an easy-to-learn instructional DVD, an endless supply of video tutorials available online, and seven days a week customer service, anyone and everyone can learn to use the Dinair Airbrush Makeup system. Dinair Airbrush Makeup not only provides users with a more sanitary way of applying makeup, it is oil, silicon and paraben free and involves "No testing on animals... just consenting celebrities!" For more information about Dinair please visit http://www.AirbrushMakeup.com, and be sure to tune in to ShopNBC on July 27, 2011!
About ShopNBC
ShopNBC, a premium interactive retailer bringing high-quality merchandise to customers via TV, Internet, mobile and social platforms under the "ShopNBC" brand.  The ShopNBC television network reaches over 79 million homes via cable and satellite and is streamed live at http://www.ShopNBC.com. Over 1.1 million customers have interacted with ShopNBC in the categories of Home & Electronics, Health & Beauty, Fashion & Accessories, and Jewelry & Watches, yielding revenues in excess of $560 million, over $230 million (41%) of which are Internet-based. "ShopNBC Anywhere" allows customers to interact and shop via TV, phone, mobile devices and online at http://www.ShopNBC.com and via Facebook, Twitter and YouTube.
###