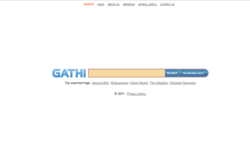 With expanded travel section, our search engine Gathi.com offers even more opportunities for advertisers to grow their business
Kopenhagen, Denmark (PRWEB) July 26, 2011
It's undisputable that there is nothing like a tempting special offer on a travel website when planning a trip. During summertime, millions of people are looking forward to having their holidays as they have been dreaming about them the whole work year. Most of them plunge into the Internet to obtain the information they can use while planning their desirable vacations. Nowadays there is much more to gain from booking tickets and hotel rooms online. Every day millions of travelers are looking for the websites that provide tourist routes and enable quick hotel reservations or tickets booking at the best prices. Gathi gives an opportunity for travel agents to become popular among huge audience with enlarging its network by adding even more sources dedicated to travel.
Hitting the right target-auditory is the core of successful advertising campaign. High-skilled professionals, working in a constantly growing advertising network - Gathi, know this strategy very well. From now on Gathi offers its customers displaying their ads in places that are exposed to their target audience. Websites are grouped into different categories and all the advertisers have to do is choose the categories where to show their ads. This innovation is greatly increasing the efficiency of an advertising campaign. Moreover, it serves both advertisers and audience. The former can be sure that their advertisement will reach their potential customers and the latter are pleased to get the information they are interested in. That is why Gathi advertising network suggests travel agencies placing their ads on those websites that will attract maximum attention of the people looking for suitable travel packages, last minute trips or tickets at the best price.
"Today's complicated economic environment dictates such terms that professionals from all over the world need to look for more opportunities of elevating themselves above the competition. Advertising online has already recommended itself as the most efficient and effective way to attract potential customers, earn their attention and obtain their trust. As the saying goes, the more time and energy are spent on advertising, the greater results will be. With expanded travel section, our search engine Gathi.com offers even more opportunities for advertisers to grow their business," states Richard Tove, the representative of Gathi.
Gathi is devoted to offering diverse assistance to all its customers. Gathi Customer support services are available 24/7 and every single advertiser can count on receiving qualified, real-time support from high-skilled consultants. Individual approach allows Gathi team to find the answers based on deep understanding of a customer's needs and give a quick and qualitative solution.
###