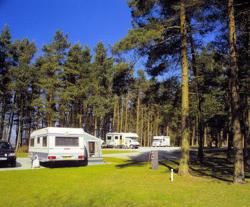 ... there are approximately 45,000 established renal failure patients in the UK...
London, UK (PRWEB) July 26, 2011
The Caravan Club is pleased to announce a party hosted at one its most popular camping sites, the Blackwall Plantatation Caravan Club site near Ashbourne, Derbyshire on 27 August 2011 to raise funds to purchase kidney dialysis machines. The wardens will be holding a variety of events including a raffle, tombola, name that tune, kiddies nature trail and there will be burgers and hotdogs available for the small fee of £1.
An NHS renal nurse will be on site to give a brief talk about the charity and to explain how the funds raised will be used. This is a very worthy cause, there are approximately 45,000 established renal failure patients in the UK, of whom half will receive a kidney transplant and half remain on dialysis. Those receiving dialysis struggle because of a lack of capacity within the NHS and a denial of choice, so this charity event is a great way to raise funds along with awareness of how chronic kidney disease can impact on people's lives.
The UK compares badly in terms of its yearly transplantation rate, with less than 2,000 kidney transplants carried out each year despite the Government's declared intention to dramatically increase the numbers of transplant operations. This is less than one in three of the patients waiting for a donor kidney. The UK transplants very few patients before dialysis. Without dialysis or a transplant, people die within a few weeks of developing Established Renal Failure. Successful treatment (by dialysis or transplant) can prolong life for many years. Average survival chances for people on dialysis (or after a transplant) are affected by age, sex, the underlying cause of kidney failure and various medical factors. People with kidney failure are individuals, not statistics.
So put the date in a diary, get into the party spirit and pay a visit to Blackwall Plantation Caravan Club Site on 27 August and help support this event!
The Blackwall Plantation site is nestled within an attractive pine plantation and is beautifully landscaped, with over 100 pitches in open clearings separated by trees. This gives the caravan park residents a privacy and quiet which many appreciate during the busy summer months.
If planning to go camping in the UK this summer, why not visit other places in Derbyshire during this August Bank Holiday - there are plenty of attractions in the region including Carsington Reservoir, conveniently adjacent to the Blackwall Plantation Caravan Club Site. A mere 15 minutes walk will bring visitors to its great selection of leisure facilities including fishing, sailing, windsurfing and children's playground. The caravan site is also an excellent base for walkers wishing to explore the beautiful scenery of Dovedale and the surrounding countryside. The local villages, all with excellent pubs and restaurants offering hearty food, are only a 3 mile stroll away. As visitors travel around the region exploring, look out for examples of Derbyshire's home-grown art - Well Dressing - which happens in many villages from May to September.
###