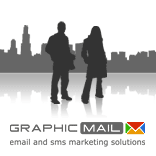 Google+ has made socially optimized email marketing even more essential.
(PRWEB) July 29, 2011
Email and mobile marketing service provider GraphicMail is in the concluding phase of testing and integrating Google+ tools with social media log-ins and footer-level +1 buttons sewn into their HTML newsletters and their website.
The impact of new Web 2.0 endeavors on email marketing is a theme that has become increasingly more important with the emergence of Google+. As Google+ has aggregated over 18 million users by the latest count, GraphicMail is awaiting the release of business profiles and pages on the platform, to spur the launch of its Google+ layer of social extensions.
The significance of +1 for businesses is calculated to be more pronounced than other social validation measurements and signals since it has a definite impact on PageRank and domain authority via organic search. The more widespread implication for SEO is that +1 presents the potential to turn the social networking service into a vitally important metrics engine.
And as the inbox has become even more social, with the increased gradient of social content sharing and the dominance of social data metrics from Facebook and Twitter, Google+ has made socially optimized email marketing even more essential. Marketers are already including social media sharing links in their newsletters and emails, and it is obvious to see and quantify how promotions spread through the pathways of Facebook, Twitter, and other social media.
With the emergence of Google+, the content of emails now has even more potential to be easily shared. Gmail users will see a drop-down menu that allows them to view their Google+ profile and utilize all its diverse features, and even share any piece of content straight from the email inbox. Emails need to include compelling content and calls to action that encourage and prompt readers to share these within their communities.
Google+ enables email recipients to do personalized targeting for business promotions by allowing users to push content to specific Google+ circles, occupied by individuals with similar interests. For instance, when one receives an email related to one's own industry, one can choose to share it just with professional peers and associates.
With GraphicMail's accommodation of Google+ social sharing features, its clients will be able to adapt their email marketing campaigns to be even more socially optimized and benefit from increased social sharing potential. GraphicMail already enables users clients to publish their newsletters via social share, offers a Facebook LIKE button that users can add to their templates, makes it easy to add social share widgets in the footer of emails and has recently also launched the ability for clients to receive comments from readers directly via a comments box in the email newsletter.
###