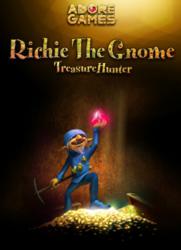 (PRWEB) July 26, 2011
AdoreStudio Ltd, a fast free PC and Mac game developer, has released the demo version of a new arcade game Richie the Gnome: Treasure Hunter.
The main goal of this fun-to-play game is to help the gnome to collect all the treasures while getting through numerous levels. It would be such an easy matter except for the monsters, whose top concern is to prevent the gnome from completing the task. Good reflexes and quick thinking are needed to help the gnome to get access to the next level.
Richie the Gnome provides not only fascinating gameplay, but also high-quality graphics and dynamic background music. Like all the previous products from AdoreGames.com, the new game is absolutely free and safe to install. It supports both PC and Mac platforms and is available for direct download at http://www.adoregames.com/games/richie-the-gnome/.
In the near future the AdoreStudio developers are going to improve the game with many more levels and some additional features, as well as diverse graphics and exciting background music. Release of the full version is planned for November this year.
Adore Studio invites all Richie the Gnome fans to share their opinions about the game at AdoreGames.com. It is also worth visiting the Adore Games Facebook and Twitter Pages in order to discuss casual games, follow the company's news and see updates and fresh game releases.
###