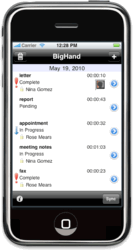 Authors and secretaries are now far more productive and as a result our document turnaround times have significantly improved; all dictations are transcribed they day they are received.
London, UK (PRWEB) July 26, 2011
BigHand, the leading voice productivity vendor in the global legal and professional services sector has today announced that Anthony Gold Solicitors has increased partners' and fee earners' mobile productivity, improved document turnaround times and cut hardware costs as a result of deploying the BigHand for iPhone dictation app. BigHand's advanced mobility apps for iPhone, BlackBerry and Android smartphones enable fee earners to record dictation or instructions, attach files and instantly submit to secretarial support from any location, removing the delays caused by portable dictation hardware.
John O'Connor, IT Manager, Anthony Gold Solicitors, comments:
''Prior to implementing BigHand for iPhone our partners and fee earners used portable dictation devices for remote working. The main frustration with these devices is the necessity for authors to return to the office in order to upload the recording, creating backlogs in transcription and document production. There is also a significant capital outlay to purchase and maintain portable devices and the time for IT to train and support users is considerable, with BigHand these costs have been totally removed.
"BigHand for iPhone is quick to deploy, incredibly intuitive and enables authors to dictate and instantly send voice files into the office. The use of portable devices often meant that secretaries were under-utilised as they waited for partners and fee earners to return to the office with their dictations. On occasion authors would forget to take a portable device or they would find the battery life low, meaning they couldn't record dictation at all. Our fee earners always have their iPhones with them and BigHand is always available when they need it.
"Authors and secretaries are now far more productive and as a result our document turnaround times have significantly improved; all dictations are transcribed they day they are received. Deploying BigHand for iPhone has also had a positive influence on users' work-life balance. Instead of staying late in the office, authors are able to submit dictations from home and secretaries are able to start transcription as soon as they arrive the following day.''
###