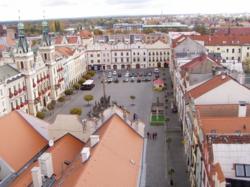 On the ground knowledge is vital in this industry so we are happy to add a team with experience.
Pardubice, Czech Republic (PRWEB UK) 27 July 2011
CZECH POINT 101, a real estate and property management company operating in the Czech Republic since 2003, has announced the launch of a new office in Pardubice.
This new location broadens CZECH POINT 101's presence in the real estate investment industry in Czech Republic. With offices in Prague, Brno and Ostrava, this fourth office will serve existing clients in the areas of Pardubice and Hradec Kralove but also look to expand the client base.
Nathan Brown, owner of CZECH POINT 101 commented regarding the new office: "The purpose behind adding Pardubice as an additional office is to offer maximum investment opportunities to our clients and be able to guide them on a day to day basis in that area. On the ground knowledge is vital in this industry so we are happy to add a team with experience."
Although its traditional client base has been foreign investors, the number of Czech investors using the company is steadily increasing. Many services offered are not typical among Czech companies including a 'hands off' property management service for individual flats.
Karel and Bc. Edita Kohoutek, owners of the new Pardubice franchise, come to the table with experience both in the local real estate market as well as running a business. Karel had worked previously as a contracted manager for multiple small businesses in the area. Both spent a couple years in the UK managing property for a wealthy landowner which gave them a great foundation in the industry as well as a good grasp of the English language.
On why they purchased a CZECH POINT 101 franchise Karel said: "I first came across the company in 2006 and had been following its development since then. We are happy to join the team and look forward to growing the business in the Pardubice area."
Karel and Edita can be reached at email: pardubice(at)czechpoint101(dot)com or on mobile: +420 775 587 300.
###